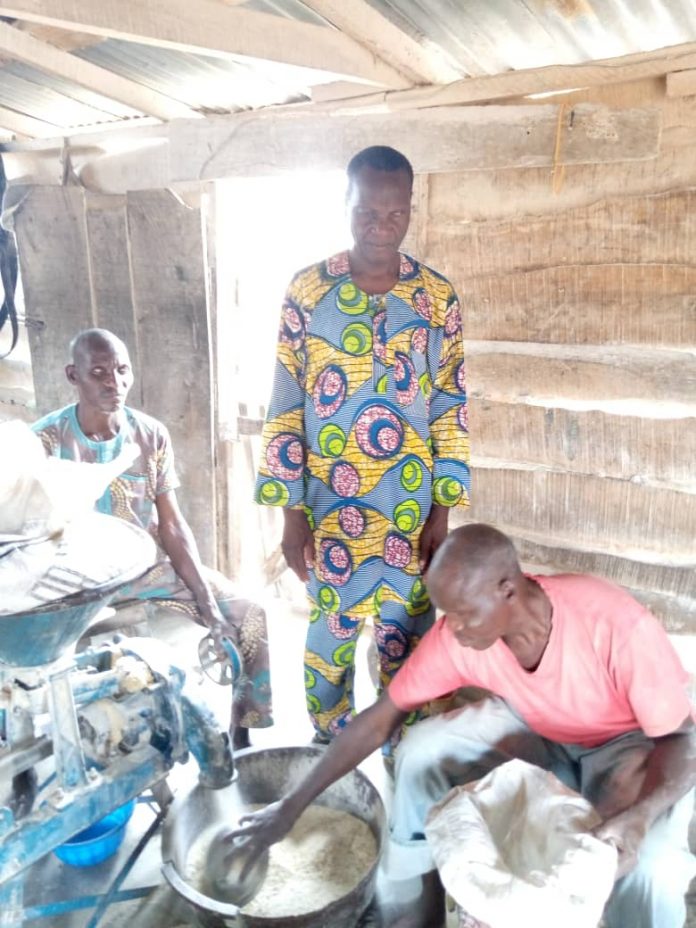 By Dele Ogunyemi, Ibadan
Three blind agribusiness entrepreneurs in Ago-Are, Atisbo Local Government Area of Oyo State have despatched a Save-Our-Souls (SOS) to Governor Seyi Makinde requesting for bail-out to enable them overhaul their ageing multi-purpose grinding machine which they described as the power house of their enterprise.
The blind entrepreneurs namely Sa'adu Isiaka, Nasir Isiaka and Suleiman Isiaka, who incidentally are brothers, told newsmen that the enterprise which is their main source of livelihood is presently at the brink of collapse as the machine which has been in operation since over two decades ago, now requires total overhauling.
Eyewitness accounts reveal that the enterprise which engages in the grinding of elubo yam flour, cassava and maize, among others, has blossomed along the ages to be one of the leaders among its contemporaries in the agrarian community.
Narrating their ordeals to journalists, the blind entrepreneurs claimed to have been hit by a strange disease, one after the other, which led to their present predicament.
The eldest, Mr. Sa'adu Isiaka was initially a professional radio mechanic while Nasir trained as a motor cycle mechanic and the youngest, Suleiman was a motor vehicle mechanic.
However, when the three of them could no longer effectively practice their ordained profession as a result of the eye problem, they resolved not to engage in street begging but rather pooled their resources and ventured into the grinding enterprise which, according to them, has been a rewarding experience so far.
But presently, with the deteriorating condition of the machine, life for the three blind entrepreneurs is fast becoming a night mere as they can now hardly make ends meet.
Virtually all proceeds from their daily operations now go into servicing the malfunctioning machines and it is no longer easy for them to cater for their households.
Spokesman for the trio, Mr. Sa'adu Isiaka maintained that an earlier pledge by the immediate past administration in Oyo State to ameliorate their predicament was not redeemed till the expiration of the regime, despite repeated reminders.
"Up to date, our file is still lying in the Office of the Commissioner for Women Affairs at the State Secretariat in Ibadan," Sa'adu claimed while appealing to Governor Seyi Makinde to "be passionate enough and extend his milk of human kindness" to them.
Sa'adu expressed the hope that with the machine fully rehabilitated or in the alternative they are able to procure a new one, their life will no longer remain the same again.
Incidentally, Oyo State government participated actively in this year's edition of the International Day Of Persons With Disability, marked last week Tuesday with a rally oganised through the Office of the Executive Assistant to the Governor, Barrister Ayodele Adekanmbi.
The government had used the occasion to announce its determination to continue to create an enabling environment for persons with disability to excel, much more so as, "a policy is being put in place that every local government will have a person with disability as a member of the soon to be inaugurated local government caretaker committees."
Governor Makinde in his inaugural speech on May 29, 2019 had also declared pointedly: "To people living with disabilities in our state, I say, your relief has come. We will establish a Commission for People Living With Disabilities. The mandate of this parastatal will be to improve the lives of people living with disabilities. In addition, we will develop an institutional framework for enforcing compliance with our equal opportunity principle. We will also encourage the private sector to hire persons with disabilities by offering them tax incentives."