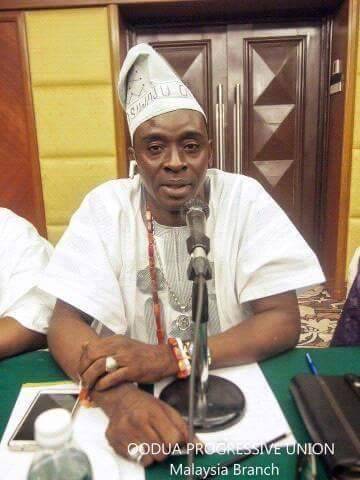 The Malaysia  Chapter of the Oodua Progressive Union (OPU)  has raised the alarm over what it called "the ridiculous action of a Yoruba Association in Malaysia mocking the culture by parading one individual as the Aare Yoruba in Malaysia".
The Coordinator of OPU in Malaysia, Prince Olawale Ayinla who raised the alarm via a statement ,said  it has become necessary to  inform  the Nigeria High Commission Malaysia, Yoruba people in Malaysia, all Nigerians in Malaysia and the general public, that "we Oodua Progressive Union Malaysia and the entire population of Yorubas in Malaysia have disassociated ourselves from the ridiculous action of a Yoruba Association in Malaysia who recently mocked Yoruba Cultutre with the illegal conferment of the  Aare Malaysia title on an individual"
Condemning the development, the Coordinator said  the community of Yorubas in Malaysia does not have a king nor recognise any  so called Aare  of Yoruba in Malaysia"
The OPU Chief quoted the   Imperial Majesty Alaafin of Oyo OBA Lamidi Adeyemi as haven warned that nobody should install any person or individual as OBA of Yoruba in diaspora or Cultural title without  an approval from Council of Obas of Yoruba land .
He stated further that the issue has been reported  to the appropriate quarters for necessary action against what he described as the "uncultured attitude of some Yoruba group disrespecting the instructions of His Royal Majesty the Alafin of Oyo" the Malaysia coordinator mentioned that the cultured natives in the Asia country had expected that "Otunba Kola Olotu, Afobaje of Agodo and Sheu Sanu Sani who came to Malaysia to conduct this destabilising event should  know better as Elders by finding out details of our existence here, before dancing to the tune of these individuals.
"We expected them to propagate unity and oneness of Yoruba globally and should not have allowed themselves to be severely dragged into the purported mess of this set of individuals ushering  division amongst Yoruba in Malaysia".
According to the Coordinator,  a letter will be dispatched immediately to the office of His Majesty Alafin Oyo Oba Lamidi Adeyemi and The Ambassador of Nigeria to Malaysia in  condemnation of the unethical attitude "of a group of people in  Malaysia who claimed to belong to an unregistered association tagged YCM, though very few in number"
Promising to sanitise the Yoruba community in Malaysia of destructive elements, the OPU Chief assured  that "investigation will be carried out and all those involved in this embarrassing and disrespect to Yoruba land and our culture will be reprimanded for their action by the appropriate quarters."
He thus enjoined   "all genuine  Yoruba descendants and other Nigerian tribal communities with the general public to disregard and disassociate themselves from such group or self made  Aare of Yorubas in Malaysia  whose careless action can promote disunity and affect the peace we are promoting among all Yorubas in Malaysia"