Engr Muftau Open Salawu in patnership with the Federation of Oyo State Student's Union trained fifty youths on how to make SOAP and engagement in fish business.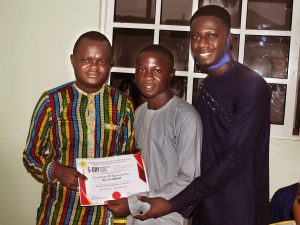 The training took place at the Destination Luxury Hotel, Starlight Ogbomoso, seasonal and experts in the two fields were present to give the needed theoretical and practical support to the trainnees.
The beneficiaries of the programme shows their immeasurable gratitude to the sponsor of the programme and to the Federation of Oyo State Student's Union for initiating the programme and promises to use the knowledge acquires during the training to better their lots in the day's to come.
Engr Muftau Open Salawu who was represented at the event by Engr Taheed Lekan also promised to continues in whatever capacity that might be needed to reduce the level of unemployment among our youths and to also ensure that relevant programmes similar to this one is also organised in no distance future.