Methodist Church of Nigeria Ogbomoso Diocese on Saturday conferred award of excellence on eminent Nigerians including Oyo state Governor, Engineer Seyi Makinde, Secretary to the Federation, Boss Mustapha, Minister of Youths and Sport Development, Mr Sunday Dare and Hon Akinwole Akinwale.
Others includes professor Adesola Adepoju DG FRIN, Dr Samson Adegoke(megida) Olori Easther Ogundiran, Sir Barr OA Adekunle, Engr Dotun Sanusi, Dr Bashir B Bello, Dr Nureni Adeniran, Pastor Akin Alamu, Pastor Engr Remi Oseni, Professor Opadijo, (CMD LTH ) and Mogaji Akin Fagbemi, OYRTMA Chairman .
The event which was held at the churvh catedral Arowomole Ogbomoso also featured special Thanksgiving service for Sir Barr Olusegun Adekunle on his retirement as Federal Permanent Secretary as well as recognition of preffered presbyters.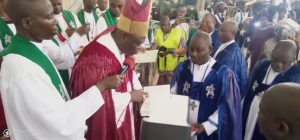 Bishop of Ogbomoso Diocese Rt Rev Dr.David Ademola Moradeyo in his remark said the choice of the awardee is based on their philanthropical gesture as well as contributions to the development of the society .
He said "we didnt just honour, a committe was set up to check on the character and quality of the awardees and out of them all 15 people were found worthy of the award and the yardstick was thier impact on people around them.
He said the purpose of the award is to appreciate their gesture and spur them to do more for humanity and the service of God.
Oyo state Governor Engineer Seyi Makinde who was presented by
Pastor Idowu Ogedengbe in his remark urge the church to continue to pray for the sustainability of democracy and growth of the state
"We are going through a lot as a nation and God has been faithful we need nore prayers commitment to service to humanity and ensure we do our best in making things work for better for us as a nation.
One of the awardees, Hon Akinwale Akinwole in his remark thanks the methodist church for the honour, and promised to do more for God and humanity
Given is inborn, my parents are cheerful giver, all they care for is to make people happy, and in my own little way, i have been doing it and wikl continue to do more