As part of the activities of her 40th birthday anniversary, Mrs Omotolani Olaide Adelugba of the Ministry of Women Affairs, Oyo state on Saturday marked her 40th birthday celebration with the children of Dorcas Adunola Oyediji Motherless home in Ibadan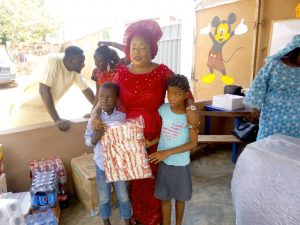 This was done at the Motherless babies home at Olubadan Estate, Ibadan with friends, families and colleagues to celebrating the goodness of God over her life.
The celebrant, speaking with the children and staff of the home said  that the visit was aimed at demonstrating kindness and replicating what God has done in her life to the children. She further said that she decided to put smiles on the faces of the children of the homeless privileged as a way of marking her 40th milestone birthday.
She expressed her indebtedness God for keeping her life safe till this moment despite all of the hurdles she has passed through. She also thanked God for the members of her family, her husband, and children for her everyday support over her.
Furthermore, In his birthday exhortation, the senior pastor of Christ Life Church, Pastor Taiwo Adebola, thanked the Lord for the life of celebrant for deeming it fit to celebrate with the motherless babies instead of throwing out a party as most people will do. He further eulogised the motherless babies home for setting up a place like this, building the future generation of leaders, hence he urged the children to keep obeying their teachers.
While responding to the kind gesture, Mr Daniel Kembe, who received Mrs Omotolani and her friends that came with her for the visit expressed her appreciation and thanks after the children at the orphanage sang and offered prayers for the birthday Celebrant for her kind gestures and thought towards the children of Dorcas Oyediji Motherless Babies home.
Others who expressed their delight at this, includes her daughter, Adelugba Subomi, who eulogized her mother that deemed it fit to taking care of the motherless children. Hence, expressing fondness and love for this act.
A member of her church, Olarenwaju Olatunbosun wasn't surprised with her generousity. He showered encomium on the celebrants who has never failed in her mollycoddle divine attributes.
After spending time with the kids, the celebrant and friends donated some gifts items to the home that would help in its daily running.