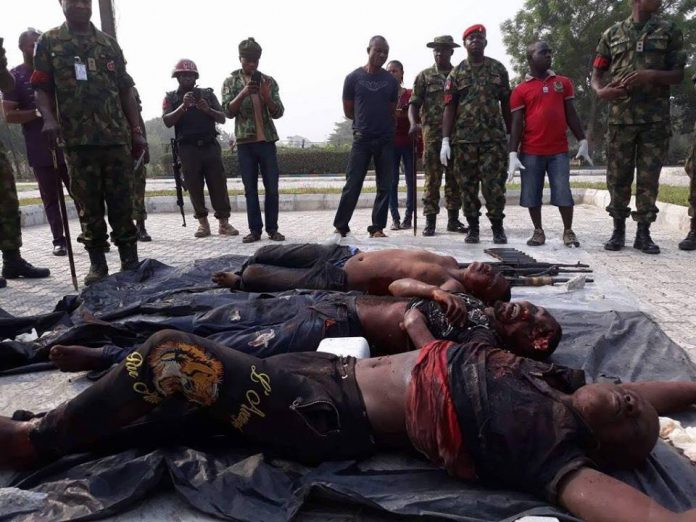 Don waney, a notorious cult leader, kidnap kingpin  believed to be master minder of  new year day mayhem which claims 23 lives in Omoku  Rivers state is dead
Intense surveillance activities on him and his gang by the Department of State Services (DSS) Rivers State Command revealed that after committing these atrocities he relocated to a neighbourhood within Enugu Town in Enugu State where he rented an apartment and started living among unsuspecting neighbours within the community.
"Don Waney was already perfecting plans to wrought another mayhem in Omoku in which he was to attack churches, schools, Army and Police locations and the residences of the generality of the already traumatized people of Omoku:
The authorities of 6 Division Nigerian Army Port Harcourt in a public information signed by  Col, Aminu Iliyasu ,Deputy Director Army Public Relations  a combined team of troops of 82 Division Nigerian Army Enugu and personnel of DSS Rivers State Command raided the hideout to arrest him and his other accomplices.
"Incidentally on sensing that the combine team were closing in on his residence, Don Waney, his Second- in- Command (Ikechukwu Adiele) and another gang member (Lucky Ode) attempted to escape through the back exit of the apartment and were shot down by the eagle eyed troops in the process"
" One of them died on the spot while the other 2 who sustained gun shot wounds eventually died while being evacuated for medical attention".
The remains of Don Waney and his cohorts were brought back to Port Harcourt Rivers State by the combine team and handed over to the Rivers State Police Command for further action.aid