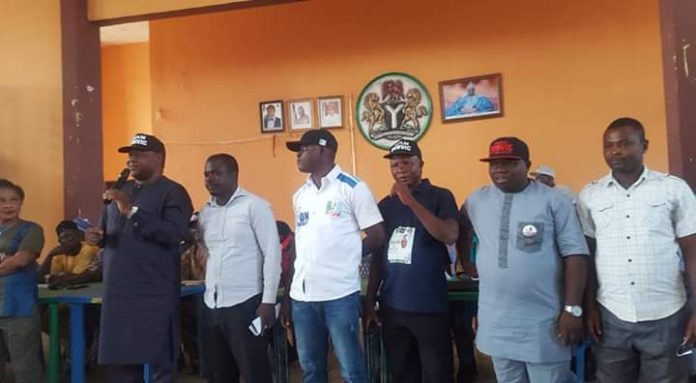 Hon Segun Dokun Odebunmi, a chieftain of the All Progressives Congress APC in Ogbomoso has urge the youths not to engage in any form violence but intellectual discussion with the oppositions
Odebunmi, member of the National Assembly representing Surulere/Ogo Oluwa Federal constituency gave this advise during the inauguration of APC youth Vanguard in Ogbomoso.
The lawmaker said" Please engage the oppositions in intellectual discussion, don't fight them, let them know that our party's focus is how to transform Nigeria rather than engaging in violent act ."
Muhammadu Buhari led APC government has convinced Nigerians beyond reasonable doubt that our party meant well for the people and what we need to do now is to showcase what they been able to do in the last four years and tell them our projection for Nigeria and why the oppositions need to support continuity of the government."
Odebunmi who is also the chairman, House of Assembly Committee on Information, National Orientation, Ethics and Value said further that " unlike before, various federal government support scheme now get to the people at the grassroots and we can also point to some projects initiated by APC government in our region."
He however commended Senator Ajimobi led APC government in Oyo state for his developmental strides and pledged the loyalty of APC ogbomoso zone his government and continuity of his administration.
Over 500 party members across the five local government were inuagurated while the group plan to hold 1million man match for APC in the zone soon.
Some of the member of the newly constituted group promise to be loyal to APC and double their effort in working for the success of the party at all level during the election.
The meeting which was held at Ogunlola Hall Ogbomoso was attended by stakeholders including  local government party chairmen and their executives  local government chairmen and councillors, party leaders among others