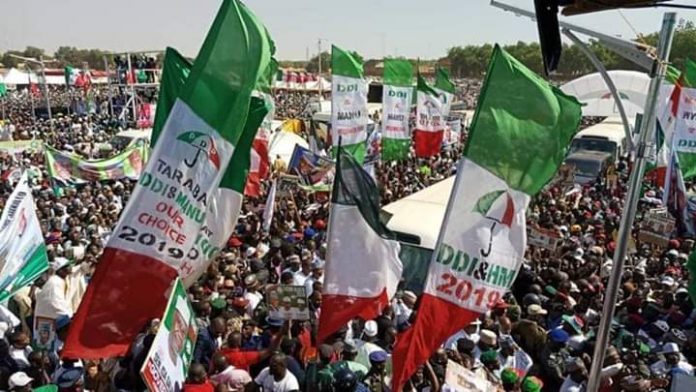 The Peoples Democratic Party, PDP,' Presidential Candidate  Atiku Abubakar on monday launched his campaign in the North Western part of Nigeria in Sokoto where he promised that he would run a people-friendly government, if elected in 2019.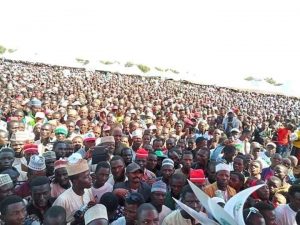 Atiku made the promise while addressing thousands of PDP supporters  "Our Nigeria of today needs leaders that will involve all in government, not some individuals who only care for their personal interests and not the country.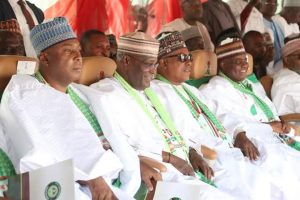 "We have plan to involve all Nigerians in any decision making, especially the masses that remain our priority in PDP.
"Our target is to ensure Nigeria of our founding fathers, a country for all, a united and secure Nigeria that will attract more investors to participate in its economic growth," he said.
In his remarks, PDP National Chairman, Uche Secondus, called on supporters to secure their Permanent Voter Cards, PVCs, to enable them vote for the party in the forthcoming election.
"Our PVCs are the only weapons for us to attain the required victory of our choice in 2019, as such, we protect them for the best interest of our desire.
"We are fully confident that Nigeria is for PDP and such will always remain, as it is the only party that can deliver for the people.
Governor Aminu Tambuwal of Sokoto State in his remarks, welcomed all the PDP supporters from the zone and other parts of the country to the state.
He called on Nigerians to vote massively for all PDP candidates in their respective states to enable the party deliver on its campaign promises.
Tambuwal described Atiku as a leader that could deliver all the necessary needs of Nigerians in the area of human development and all other sectors that needed to be addressed in the country.
In his remarks, former President Goodluck Jonathan  noted that Nigeria had a lot of challenges that needed to be systematically addressed.
"We believe that today, we are facing a lot of challenges in our country and we believe Atiku is the only candidate that can deliver well in tackling such," Jonathan said.
Jonathan, who noted that the PDP remained the only party that could feed Nigerians thrice a day, asked Nigerians to vote for Atiku "so that all of us will have food to eat."
Jonathan said:  "We have seen four presidents, from Obasanjo to our late brother, Yar'Adua, to myself, and to the current president. You have seen how the various presidents and the various parties have worked, and one thing that is very clear is that PDP is still the number one party."
"Let us not make any mistakes, those of us that are adults, old enough to vote, if we vote wrongly, our children and grandchildren will not forgive us," he added.
Also speaking at the campaign rally, Senate President, Bukola Saraki, said Nigerians had tried President Muhammadu Buhari but he has failed the country.
"Today is a great day, today we are making history.  As the DG of the campaign, when we said we wanted to come to the North West, they said it was a no-go area for PDP, but today, North-West is PDP!
"And for years, North West leads the country and today, North West says is time to vote for PDP.
"We have tried this one (Buhari), but he has failed. North West has spoken and the entire Nigerians will speak," Saraki said.
.