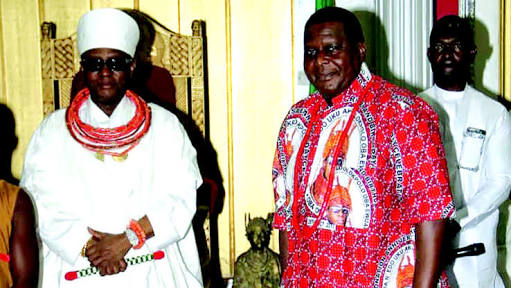 His Royal Majesty Omo N'oba N'edu Uku Akpolokpolo Ewuare 11, the oba Of Benin, has extolled the virtue of Otunba Olusegun Runsewe, Director-General, National Council for Arts and Culture (NCA), proclaiming him as ' the son of Benin ' thus conferred on him indigeneship of Benin City, Edo state
Otunba Runsewe who led Arts and Culture administrators from 36 states of the federation to the palace in Benin , in preparation for the 2019 edition of the Nigeria Arts and Culture Festival (NAFEST) went down memory lane by recalling the immeasurable contributions of the present Oba of Benin in shoring up the international image of Nigeria when the Oba was the Nigerian Ambassador to Angola
Oba Ewuare, while hosting the delegation in his palace said that Nigeria needs more men like Runsewe who are passionate about the development of her diverse culture and tradition
He pointed out that "Runsewe's antecedent and activities in the culture, arts and tourism sectors speak volume of his passion, and Nigeria cannot afford to do away with people like him. I wish him all the best in his endeavours,"
Oba Ewuare said the choice of Benin as the venue for 2019 edition of NAFEST was a welcome development, "that would further enhance economic development and promote unity in the country.
While pledging his unflinching support for the event, the highly revered monarch said, the people of Benin would be glad to receive delegates from all part of the world.
In his remarks, Otunba Runsewe paid a glowing tribute to the monarch for his fatherly role, especially in his conscious efforts at promoting of Benin culture in the country, "the development which has placed Benin as one of the pride of Nigeria."
"Your highness, as an Ambassador in Angola, you distinguished yourself as an embodiment of culture and tradition, promoting Nigeria culture and adding values to the image of the country," Runsewe noted.
Speaking on the NAFEST, Runsewe said over three million people from 36 state in the country and international communities would be expected to partake in the event.
"On the state of facilities for NAFEST, I want to appreciate the government of Edo State for a job well done. Myself and Administrators of Arts and Culture from 36 states of the federation have moved round to inspect the facilities after a Technical Session, and to an extent, we are satisfied with what is on the ground," Runsewe remarked.
He thanked the Monarch for considering him fit to become an indigene of Benin pointing out that he would not disappoint the king and the entire Benin kingdom