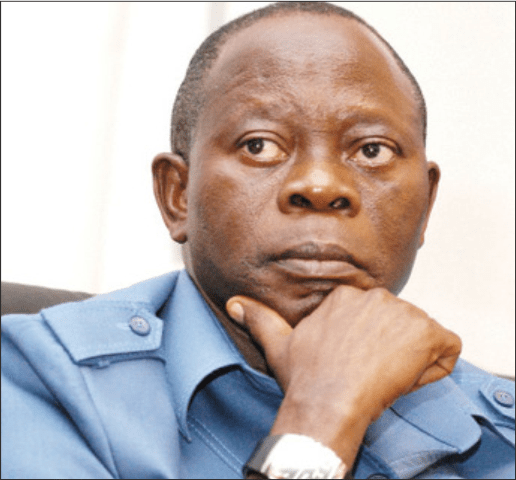 National chairman of  All Progressives Congress (APC)  Comrade Adams Oshiomhole, has  declared that there would be no automatic tickets for any aspirants
Oshiomhole, who stated this when he met with APC members in the House of Representatives at the party's national secretariat in Abuja, said the tickets would be given on merit.
He said, "I am excited that even in moments like this, we still have men and women of honour in the House of Representatives who recognise that there are values more important than dangling automatic ticket, dangling dollars without asking questions about the source of those dollars. But I can assure you that if people have not learnt from the recent past, then they will go the way of the recent past.'
"We must remain focused and I am grateful that we still have men and women of honour who have refused to be tempted. Somebody asked if we are going to counter the PDP by offering automatic tickets and I asked: did we serve anybody a departure ticket? If we did not give you a departure ticket, how did the issue of return ticket arise? For me, we are clear that every legislator who has value and is at home with his people and not with the godfathers in their communities, that legislator is an asset to our party and this party will do everything possible to retain him."
He said further that the party was working towards entrenching a durable political system which would produce legislators whose experience will add value to the country over a long period.
According to him , "Only yesterday, I said to the caucus of the Senate that my hope is that once we clean up the system and we are able to distinguish our left from the right and can now see clearly as people who believe in a particular set of ideas, our party must consciously work to achieve a situation where Nigeria will produce seasoned legislators and congressmen like we have in the US where a Senator McCain will speak and even a mad president listens. We must get there. But if it takes them 100 years to get there, we don't have to wait that long. We don't have to reinvent the wheel because we will copy what is attractive and discard what is not."
"It can't be argued that experience should be discarded because in the real world, nobody can give what he does not have, and experience is not learnt from the book, but acquired on the job where honest mistakes are made and intelligent and honest people can identify those mistakes, overcome them and move on."
Oshiomhole further spoke on some of the underlying reasons for the gale of defections that have hit the party recently. "I understand now, after we have carried out some investigations, that certain persons played on the fears of people who were completely innocent. They tried to portray their own frustration – which is personal to them – as if it is a shared frustration by all those who have issues".