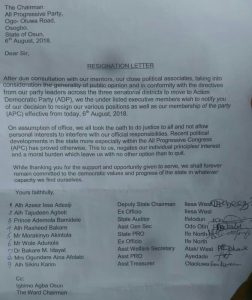 Nine state executive members of the   All Progressives Congress (APC)  in the state of Osun resigned from party  to join ADP
Those who resigned were :Alh Azeez Issa Adesiji – Deputy State Chairman (Ilesa West), Alh Tajudeen Agbeti – Ex Officio (Ilesa West), Prince Ademola Bamidele – State Auditor (Ifelodun) and Alh Rasheed Bakare – Asst Gen Sec (Odo Otin)
Others includes: Mr Morakinyo Akintola – State PRO (Ife North), Mr Wole Adunola – Ex Officio (Ife North), Dr Bakare M. Idayat – Asst Welfare Secretary (Atakumosa West), Mrs Ogundare Aina Afolabi – Asst PRO (Ayedade) and Alh Sikiru Karim Asst Treasurer (Olaoluwa )
According  a resignation letter addressed to the State Chairman of the ruling  All Progressives Congress (APC), dated 6th August, 2018, they said the decision to leave the party was  taken after due consultation with their mentors, close political associates, and taking into consideration the generality of public opinion and in conformity with the directives from our party leaders across the three senatorial districts to move to Action Democratic Party (ADP), the executive members wish to notify the party of their resignation  from their various positions as well as the membership of the party (APC) effective from today, 6th August, 2018.
"On assumption of office, we all took the oath to do justice to all and not allow personal interests to interfere with our official responsibilities. Recent political developments in the state more especially within the All Progressive Congress (APC) has proved otherwise. This to us, negates our individual principles/ interest and a moral burden which leave us with no other option than to quit.
"While thanking you for the support and opportunity given to serve, we shall forever remain committed to the democratic values and progress of the state in whatever capacity we find ourselves", the letter further reads.
The resignation letter, a copy which was made available to Mega Icon Magazine was signed by the following people: