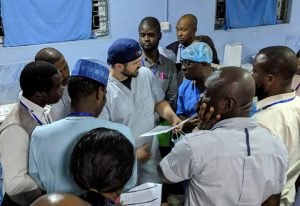 An American Professor of Radiology Stephen Hunt has harped on the need for Nigeria Government and to embrace interventional Radiology to reduce huge amount of money spent annually on medical tourism by Nigerians abroad
Hunt and some physicians from the US were in Nigeria for few days  to  begin interventional radiotherapy training for Nigerian physicians
The Assistant Professor from University of Pennsylvania who was in Nigeria to launch interventional radiology at the University college of Hospital says he is willing to partner with government on training of medical personnel on interventional radiology and spread it across the Nation
Speaking with journalists in Ibadan recently, Hunt   lamented that about $15 billion is spent yearly by Nigerians in United State of America and United Kingdom alone on health issues and most of what they spent money on abroad can be treated here with interventional radiology
"When they travel, they are not just paying for the medical service they are also paying for food, accommodation and flight. It won't be that expensive if it can be treated in Nigeria," he said.
Hunt said that the choice of Nigeria was as a result of the country's leadership status across the African continent and because interventional radiotherapy was not practiced in the country.
"We chose Nigeria because Nigeria showed Leadership role. The have the largest economy and the largest population. They started ECOWAS and AU.
"I heard from my friends whom we study together abroad that interventional radiology  is not really practiced in Nigeria. I chose Nigeria because I have been called for lectures and  conferences in Nigeria
"There are Nigerians who start the training but want to come back, and other people who undergo this training such as whites, Indians and blacks know that Nigeria is the place to start," he said.
He said that the training would start from UCH to other facilities in the country, West Africa and the continent as a whole.
According to him,"We doing a cell culture. We are growing patient's cells from their tumor in an incubation so as to know what chemotherapy they will be sensitive to.
"It is called precision medicine. We are doing this in other to be able to treat cancer and other diseases."
Hunt said that one of the major challenge was funding, saying they must raise and invest more money into the training.
"We have to raise and invest more money into the training and we still need money for supplies and equipment needed for the training
"We need to study the disease here because they can be unique. We need to study our traditional herbs so as to see how it can be used to treat cancer and other diseases," he said.
He submitted that over 22,000 doctors who are Nigerians resided in US and UK alone, saying such was greater than the estimated 18,000 working in the country.
Hunt said that lot of physicians, nurses, technologist and doctors want to come for the training but they don't have money for their flight, saying only few were able to raise money