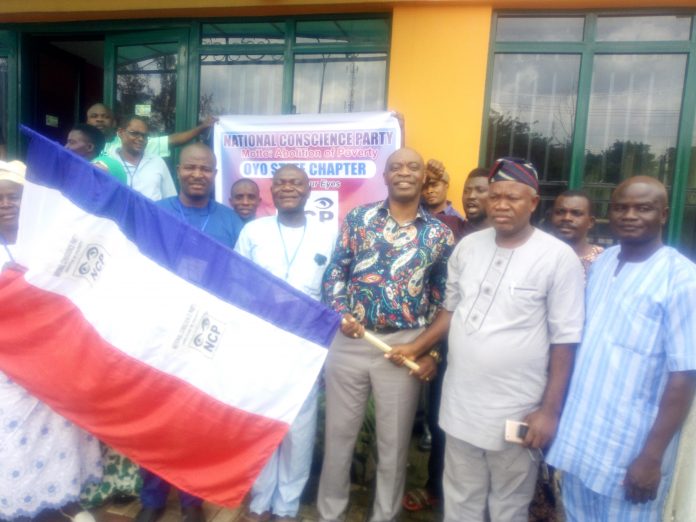 National Conscience Party has adopted Mr Micheal Oloyade and Mrs Foluke Kemisola Adeyemi as the governorship and deputy governorship candidate of the party in 2019 election.
Oloyade and his deputy were unanimously adopted by the delegates at the delegate conference held in Ibadan today.
The motion for adoption of Oloyade and his deputy was moved by Comrade Musbau Bakare from Oyo East and Comrade Fatunla Oyewole from Ibarapa North local government and was unanimously supported by others.
The event was monitored by representatives of the Independent National Electoral Commission INEC and security operatives .
In his acceptance speech, Oloyade, commended the party executives and executives for trusting in him and promised not to betray the confidence reposed in him
The Toronto based media practictioner said 'his decison to be seek elective position is to bring a developmental and positive change to the society.
He lamented the deplorable condition of the infrastructure, poor health and education facilities and economic crisis bedeveling the nation under the two major party that has been governing the country since 1999.
"For too long it has been two major political parties ruling the country, people are not to be blame because there is no viable alternative, poverty have have agents and they are the people that have been in power and not doing anything to better the affirs of the people , but NCP stands for abolition of poverty and we are ready to challenge the statusquo"
When asked why NCP, Oloyade said " I buy into NCPnot because i am going to get money but for whom much has been given much is expected, it about my widow's might and service to the nation i will roll up my sleeves in readiness to actually do the Job"
" Our expectation is to take over the government, its not going to be easy , its hard but i am commiitted to challenge the statusquo i considered NCP as a platform that can guarantee freedom and oppurtunity to express my ability."
" The Deputy National Vice President of the party comrade Waheed Lawal while presenting the part flag to the flagbearer said NCP is a party that places much priority on the welfare of the people and development of the society"
He said the focus of the founding fathers under the leadership of late Chief Gani Fawhinmi is to create a sane society where peoples right will be recognized and protected, and dividends of democracry be delivered to the society."