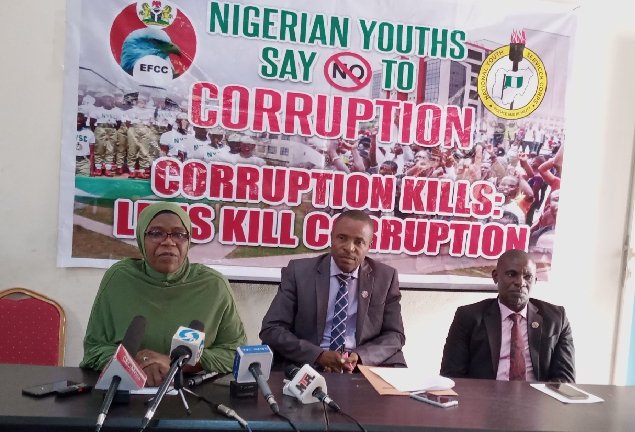 Various interest groups including the serving members of National youth Service Corps NYSC will tomorrow stage anti corruption rally
Tagged National yourh Walk against corruption, the rally will hold in major cities of the Federation.
Briefing newsmen in Ibadan,the zonal Director of the Economic Financial and Crimes Commission. EFCC Mr Bright Igbileke said the walk is to sensitize against corruption in nigeria
"The objectives of tye walk are multifarious, the most significant of them are to sensitise,mobilize youths acros the country, to rejects the evils of corrupt practices, Encourage youths to be anti- corruption advocates and Ambassadors, enlist Youth to partner with the EFCC by providing information and actionable Intelligence on fraudsters."
"Organize youth as a change agents and pace-setters in integrity and galvanized the energy and resourcefulness of youths to prevent corruption in all sectors of our polity". He added.
Representative of the National Youth Service Corps Hajia in her remark said agency is billed to mobilize 500 youth corps in the state to be part of the rally
She said necessary arrangement have been out in place to ensure a successful outings