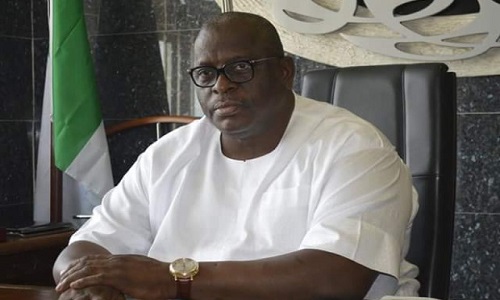 Buruji Kashamu, Senator representing Ogun East Senatorial District at the upper chamber of the National Assembly has described his expulsion from the Peoples Democratic Party PDP as illegal decison which cannot stand
Kashamu in a press statement where he affirmed that he still remain in PDP said "It is clear from the ill-advised decision that the Prince Uche Secondus-led National Working Committee is lawless and undemocratic. No due process was followed as enshrined in the constitution of the party."
Accordibg to him, Since the initial 30-day suspension lapsed on the 9th of January, 2018, they do not have any right to take any disciplinary action against me. This decision cannot stand because Article 57 (6) of the PDP Constitution says "Any decision taken against a member who has not been informed of the charges against him or has not been given any opportunity of defending himself shall be null and void".
The federal lawmaker stressed further that " Besides there are no less than to two suits challenging my initial suspension. The first is Suit No. FHC/L/ABJ/CS/1254/2017 between Senator Buruji Kashamu Vs. PDP, Prince Uche Secondus, the National Secretary and INEC before the Honourable Justice Ahmed Mohammed of the Federal High Court, Abuja."
# PDP should not forget that it also instituted a case against me and other leaders of the party in the South West at the High Court of the Federal Territory in Suit No. FCT/HC/CV/0303/2017 as per the Honourable Justice Valentine Ashi in which the court made an order nullifying and setting aside my purported suspension on the 9th of January, 2018. The court also ordered parties, including PDP "to maintain status quo".
" There are also counter-claims in the said suit at the FCT High Court praying the court for "an order restraining the plaintiffs (PDP) by themselves, their agents, servants and privies from taking any disciplinary action against the 1st – 4th defendants (with me and the authentic Ogun State PDP Chairman, Engr. Adebayo Dayo as the 1st and 4th defendants) on account of any actions and/or conduct or steps taken by them individually and jointly to make the plaintiff abide by its constitution and observe democratic principles in all its dealings with the 1st – 4th defendants."
" Despite all these, if such an irrational decision was allegedly taken, the expulsion cannot stand. It does not have anything to do with me or any of my associates. It is instructive that the Federal High Court as per the Honourable Justice I.N. Buba on the 24th June, 2016, granted an order which the PDP from impeding the functions of the Engr. Adebayo Dayo-led Ogun State PDP Exco "until the four years tenure to which they have been elected is spent" (i.e. the State Exco is to remain in office until 2020)."
" Therefore, the purported expulsion cannot stand in the face of the Rule of Law. It is null and void. I and my associates are fully in the PDP whether anybody likes it or not. We will continue to operate with the law as PDP members, senator and exco."
He however urged all Nigerians to watch out for the full story and history of Secondus and what transpired between him and the Adebutus on how they sold an empty shell of the Ogun State PDP structure to the Adebutus