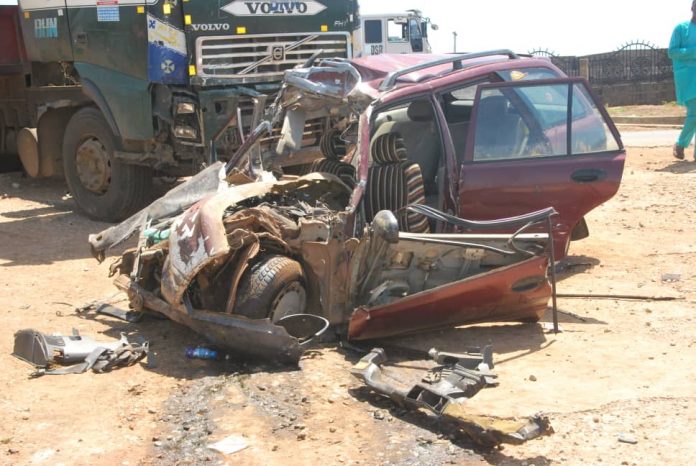 No fewer than 9 people have been confirmed dead while 3 were seriously injured in an auto crash involving an articulated vehicle and a passenger car today in Ogbomoso – Oyo road.
The victims of the accident includes a husband two wives and 9 children out of which only 3 of the children that survives are in critical condition at BOWEN Teaching hopsital Ogbomoso.
Road safety said the cause of the incident was as a result of over speeding and wrongful overtaking of the passenger driver. Adding that the investigation still continues
Eye witness said the vehicle is coming from Agric area carrying all his family wife and his children while the towing vehicle was coming from Ogbomoso.
The husband Mr muftau Gbadamosi is the chairman National Union of Road Transport Workers Ahoyaya garage in ogbomoso while his two wives Hadija gbadamosi and Idowu Gbadamosi were traders.
Also a month old baby Yinusa was who was christened last month also died in the accident.
A resident Doctor at General Hospital Ogbomoso , Dr Victor Backo when contacted said " The Road Safety officers brought 8 dead corps including 6 males and 2 females by road around 7:20 am.
One of of the survivors also died at BOWEN teaching hospital in Ogbomoso
He hinted that the victims have multiple injuries in their head and in the abdomen.