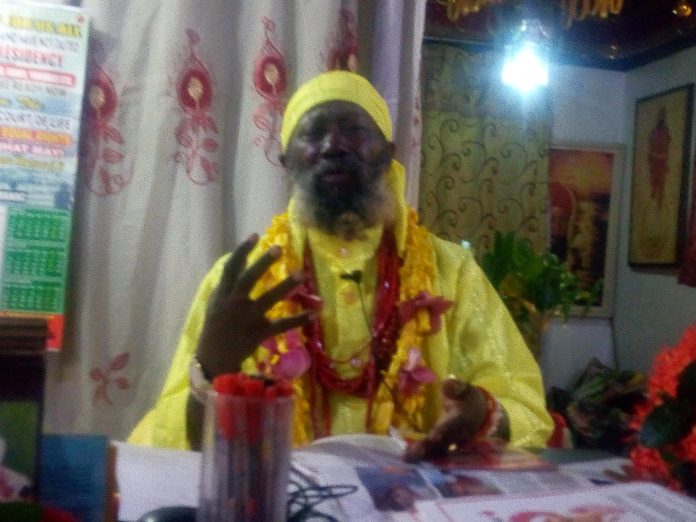 Guru Maraj ji List Condition for Buhari to Win 2019 Election.
Sat Guru Maharaj Ji, the Spiritual Head of the One Love Family, at the weekend declared that President Muhammodu Buhari will win the 2019 election, if the President takes bold steps in the fight against corruption and killings across Nigeria.
The spiritual head of the One Love Family who made this call at a World Press Conference he addressed at Maharaj Ji Village, Ibadan, on Friday evening, noted that "it appears that President Buhari has relaxed on his war against corruption ".
He urged Nigerians not to allow what happened in 1985, when some corrupt elements in the country came together to scuttle the war against indiscipline by Buhari, who was then the Military Head of State, to repeat itself.
Maharaji Ji maintained that the President should be encouraged to use his executive power to fight corruption to standstill in Nigeria, saying "corruption will consume Buhari, if he failed to consume corruption".
He also declared that there would be no bloodbath in Nigeria during the 2019 general elections, contrary to fears being expressed by some Nigerians.
On the killings across the country by Fulani herdsmen, Maharaj Ji tasked the President to immediately arrest the leaders of Miyetti Allah Cattle Breeders Association that has severally been linked to the killings.
He said " the immediate arrest of Miyetti Allah leaders will significantly save the government from being accused of complicity in the consistent genocidal murder of non-Fulani Nigerians by so-called Fulani herdsmen linked to Miyetti Allah ".
The spiritual head of the One Love Family, however, expressed suspicion that the killings might be a grand plan by some unscrupulous elements to destabilize Buhari's government, vowing that every person involved in the slaughter of innocent Nigerians will soon be visited with adequate nemesis.
His words: " I make known the fact that the Fulani – perpetrated killings that are actual a manifestation of a minute fraction of a grand plan to ignite the flames of war in Nigeria. The idea of setting Nigeria ablaze is not entirely Fulani, it has external roots and facilitators ".
On recent defection of some members of the National Assembly, Maharaj Ji said Nigerian lawmakers should be made to account for the monies collected for their constituency projects, as they have shown clearly that they are not after the interests of the people they are representing.
He said: " Nigerians are not very much awake. Politicians are cross carpeting for the sake of what they will eat, and not because they have the interest of the country. Nigerians should ask the lawmakers to account for all the monies they have collected for constituency projects.
"If the EFCC cannot talk, the President should talk. Saraki, Dogara, Ekweremandu and others should be asked questions. Let Saraki explain his roles and involvement in the Offa robbery. Buhari should properly use the Executive Order 6 to fight corruption. He should not allow what happened in 1985 to repeat itself".