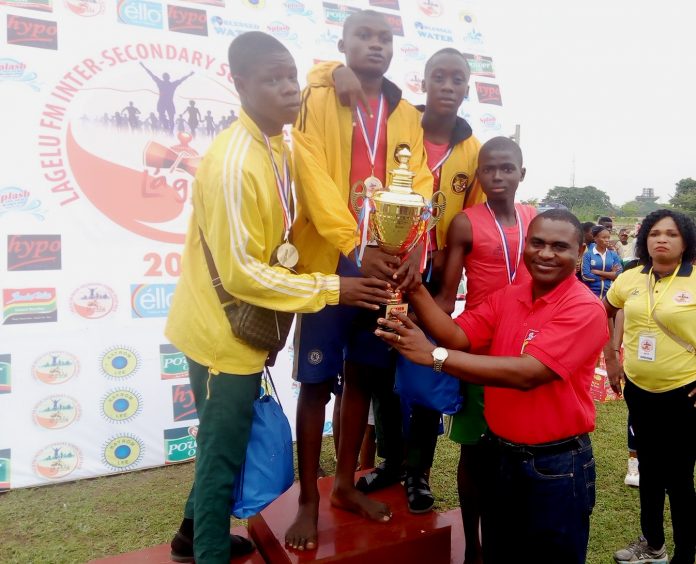 Lagelu FM, the organizer of the recently concluded Lagelu Inter-Secondary Schools Relay Race held in Ibadan inside the sports center of the University of Ibadan has thumped up one of the co-sponsor of the event, De United Foods Industry the maker of Indomie noodles that fed more that 3000 kids and adults during the 3-day athletics event.
Pupils of Abadina High School, Ibadan and Bibire Secondary School Oyo gave good account of themselves by winning 4+400, 100+400. Medley relay races events respectively.
The general manager news of the media outfits that organized, Tunde Olawuwo in his address commended the corporate organizations that supported them in making the event a reality, while singling out Seyi Makinde's Omi Tuntun Foundation and indomie for their huge supports.
The regional marketing manager of De United Foods Industry, Kunle Oshinoike that led his crew to the event in his remark with newsmen affirmed the commitment of his firm in encouraging and supporting school's oriented sports' programmes.
His words: We are happy to be part of this athletics event that is specially designed for secondary schools pupils because we know our involvement would gear the kids to have more interest in sports. We sampled about 3000 kids for three days of this event including adults.
"The gesture was part of our corporate social responsibility, and we are happy being part of this process of discovering  budding talents and building next generation of athletic stars for the country".
Oshinoike however urged other corporate organization to join in encouraging sports programmes of this nature which is quite more beneficial to the total wellbeing and complete education of the children.
"Our products have great nutritional values, especially for children; the noodle contains essential vitamins and minerals like Vitamin A,which is good for eye-sight, B12 and Calcium for strong bones which are essential for growth of children", He enthused