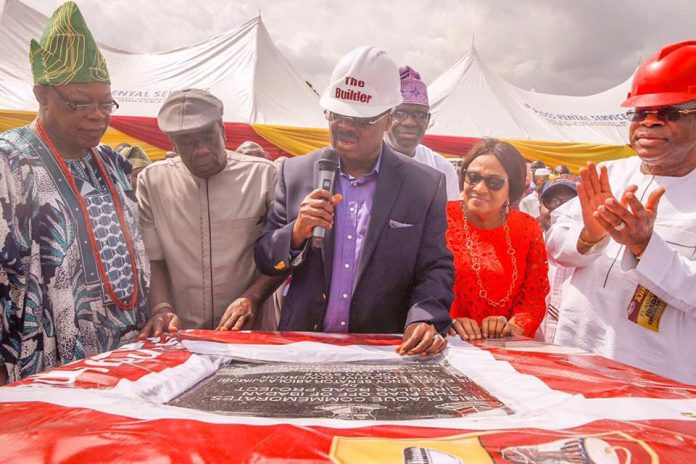 Accord Party in Oyo State on Saturday said the circular road projects which was flagged off by Gov Abiola Ajimobi on Friday was initiated by Senator Rashidi Ladoja when he was the governor and not lateLam Adesina which the governor attributed it to
Accord in a press statement signed by its publicity secretary Engnr. Akeem Olatunji said "It's on record that the project is an initiation of Sen Ladoja and part of his campaign promises in year 2003"
The statement reads further that "He (Ladoja) set up committees to make feasibility studies and they came up with a comprehensive design for the road after which the project was awarded but the contract was cancelled by former Gov Adebayo Alao-Akala who saw no reason for the project ".
"It was in a bid to enhance the socio-economic development of the ancient city that Sen Ladoja conceived the Ibadan Circular Road".
"14 years ago, Sen Rashidi Adewolu Ladoja administration had conceived and pursued various programs to rapidly transform Oyo State into a modern state of his dream among which is Ibadan Circular Road. Sen Rashidi Ladoja identified the socio-economic benefits of the circular road project to the state and diligently pursued it to a logical conclusion within the short time frame he was the governor of the state.
"If not for successive administrations that refused that failed to continue with the foundation laid by Sen Ladoja, the circular road would have been completed while intra and inter-city traffic congestion would have been a thing of the past".
"The vision of Sen Ladoja led administration was to fast track the development of Ibadan in terms of industrialization and as well serve as a bye pass for inter-city traffic on routes outside Ibadan. It would have opened a new economic activity to generate employment opportunities for our teeming youths" .
"As widely known, the contract for the survey of the road was awarded in 2005 by Adesina's successor, Senator Rashidi Ladoja, while the engineering design was awarded in 2005 and concluded in 2007".
"The Gov Ajimobi led administration having been boxed to corner could not deny that the contract for the construction of the road, which was divided into two phases, was awarded to two contractors by the Sen Rashidi Ladoja administration, the project was later cancelled by the Chief Adebayo Alao-Akala administration on assumption of office".
"For reasons not made public, the Alao-Akala administration substituted the project with new ones which the contractors were compelled to execute, having already been mobilized by Sen Ladoja government for the construction of the circular road".
The party maintained APC government's penchant for falsehood and inexplicable hatred for Sen Ladoja and his undying legacies several years he left government house is eroding their credibility
"What Gov Ajimobi and his bench warmers executives have done is tantamount to stealing of intellectual property without giving credit to the originator".
"LACCORD party is not surprised by the antics of Oyo State APC led administration as the actions of their principal is to erase all the legacies of the face of ACCORD party, Sen Ladoja, since his dying party can't withstand ACCORD as the biggest opposition party in Oyo State'.
"The ACCORD party in Oyo State is hereby calling on Gov Ajimobi to leave Sen Ladoja alone and face governance because his pettiness is responsible for near collapse of all sectors in the state ranging from education to health, worker's welfare to non conduct of local governments election since assuming office for over six years