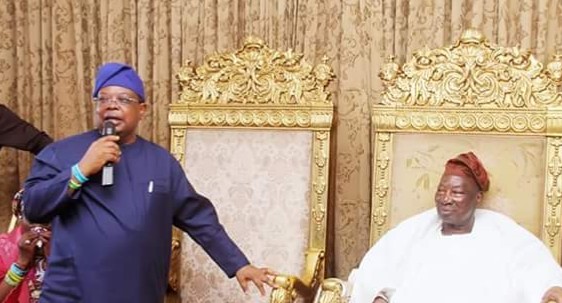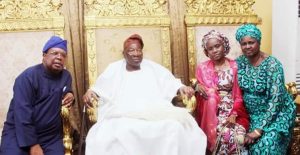 A Governorship aspirant of the All Progressives Congress (APC) in Oyo State, Engr Joseph Olasunkanmi Tegbe today visited the Soun of Ogbomosoland, His Majesty, Oba (Dr.) Oladunni Oyewumi, JP, CFR,  in Ogbomoso.
The visit was a home coming of sort for the Governorship hopeful, who is a product of Federal Government College, Ogbomoso and also married a daughter of late Alhaji Oladunni Ayandipo of Alubata compound, Ogbomoso, who was a Minister of State for Power & Steel.
Engr Tegbe, who was accompanied by his wife while speaking, described his visit to the highly revered monarch as one by a son to a father.
He also said, to the astonishment of all present, that the royal father was the Chairman of his wedding reception ceremony in the 90s.
In his own response, the Soun of Ogbomosoland welcomed the Tegbe's and their entourage very warmly and described the late Engr Tegbe's late father-in-law as a very close and loyal subject of his in his life time.
He also prayed for the success of Engr Joseph Olasunkanmi Tegbe in his bid to govern Oyo State.
On the entourage of Engr Tegbe were, Alhaji Babatunde Ologburo, Hon. Adesina Alabi, Mr Ismaila Asipa, Prince Adesoji Ologbenla, Mr Shina Adebayo-Areago and a host of others.
Source. Feat Magazine