Engn Muftau Open Salawu, a chieftain of the All Progressives Congress APC has said the killer of his nephew Jimoh Isiaka must be brought to Justice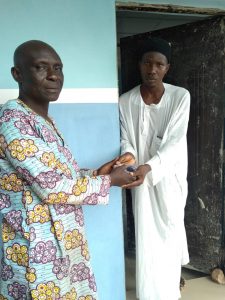 Jimoh Isiaka was hit by police bullet on Saturday during #ENDSARS protest in Ogbomoso area of Oyo state.
"In a statement the Ogbomoso born Civil Engineer said it is so sad and shocking when I was informed of the death of Isiaka jimoh. This is a promising young vibrant boy that could help and support the family and is life was cut short. Who ever is responsible most be brought to justice."
"The Father is my brother and we just finished a project together with him in which the Key of the building was handed over to him to tell you how close we are with the family. "
On the agitation for #ENDSARs Open Salawu said "Restructuring of policing systems is inevitable now, police are supposed to be friends of the citizens but am not sure that is the case right now. More innocent Nigerians have been killed by reckless police men and this is as result of unprofessional conduct of few officers in uniform."
He however urge the protesters and aggrieved youths to be calm and protest peaceful and avoid physical confrontations with men that carry guns in other to avoid lost of life.
"The Police need to be restructure to give room for community policing and that is when we can have effective policing in our Country." He concluded