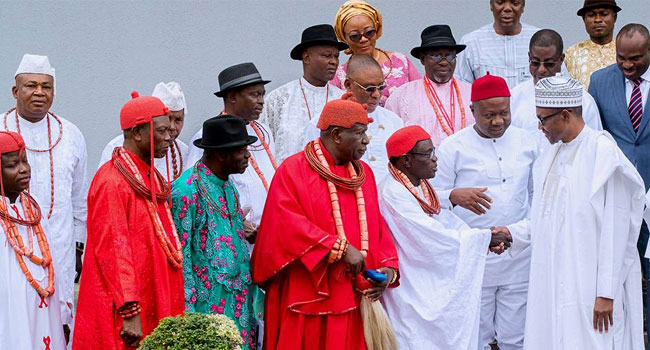 Traditional rulers of Isoko, Delta State on Friday appealed to President Buhari to extend the amnesty programme to the peaceful youths in Isoko and consider them for Federal appointments.
The leaders during the visit to the president on alsoH asked the President to reward the Isoko community for being peaceful and protecting the nations oil and gas assets for over 15 years.
The President-General of the Isoko Development Union and spokesman for the traditional rulers, Iduh Amadhe called on President Buhari to look into the spread of development projects in Niger Delta.
"With eight oil fields of flow stations in Isoko land, we appeal to His Excellency to direct NNPC to establish a gas plant and a modular refinery in Isoko land.
"It will be beneficial to the nation; it will create employment and generate revenue,'' he said.