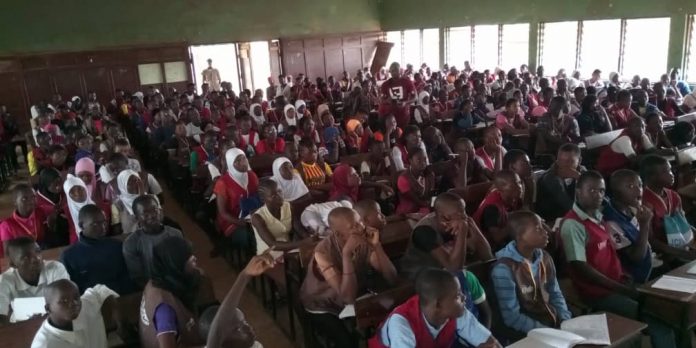 Young scholars have been advised not limit themselves but rather improve their capacity in their bid to be become successful in their future endeavors.
This was the thrust of the message delivered at the closing ceremony of the 4th Muyiwa Bamgbose Academy an annual event organized by the Junior Chamber International Ibadan as part of the yearly activities of the Not for Profit, Youth Oriented Organization.
The event which brings together young scholars drawn from various secondary Schools during the long vacation is a 4 day long event which features Career Talks, Capacity Building, Games, Quiz competitions, Pep talks, Essay Competition, summer review classes,
Financial literacy, Skill Acquisition, Volunteering and Charity, Leadership training amongst many other activities.
Declaring this year's academy closed, 2019 President, Junior Chamber International, Ibadan chapter JCI Amb. Adedimeji Adekanmbi urged the young scholars to put into good use the what they have been taught at this year's academy as it will go a long way in their efforts at making decisions on their future career and lifetime decision making.
Amb. Adekanmbi stated further that Government at all levels should endeavor to encourage Organizations like Junior Chamber International in its bid at mentoring the younger generation as they will eventually form the bedrock of the future which this present generation will rely on and hand over to by establishing ensuring thy Entrepreneurship and Capacity Building courses are inculcated into the curriculum of secondary schools from SS1-SS3.
He said if this is done, it will help these students shape their future right from secondary school and serve as a guide as they prepare for their tertiary education.
JCI Amb. Adekanmbi further express the Organizations readiness at partnering with Government in the area of providing resource persons to serve as tutors and guides to these pupils once fulfills its own part of making the courses available in our schools.
" on our part as an Organization we are willing and ready to make ourselves available by going to schools across the state to take Mentorship and capacity Building classes free of charge. This will also form part of our Corporate Social Responsibility which we have been undertaking in the past and which we are ready to do more once we get the green light on the part of Government.