Oyo state  Governor, Engineer Oluseyi Makinde has decried the  deplorable condition of the multi-million Naira Agbowo Shopping complex and promise take a definite decision on it before his administration  marks the 100 days in office
The complex was constructed by the Bola Ige administration in 1983, was designed to house 104 shops, a Theater, two Department Stores, a Night Club; more than 20 large Office Units, an ample parking space, and a conducive environment that foster economic activities.
In 2016, the Governor Abiola Ajimobi-led Oyo State Government signed a Memorandum of Understanding (MoU) with a consortium of investors, Agbowo Mall infrastructure Development Company Limited, for the remodeling, redeveloping and rehabilitation of Agbowo shopping complex at cost of N8bn.
Makinde  who described the  edifice a security threat to the university promised that  there will be a definite pronouncement on it soon
He disclosed this  while hosting the Council members and the Management team of the University of Ibadan in his office during a courtesy call on him by the authorities of the institution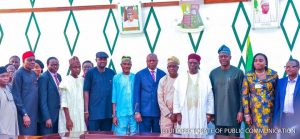 He maintained that  that his administration would partner with the University of Ibadan (UI) in order to move the state forward .
According to the governor, "Oyo state stands to benefit immensely by partnering with the university in the area of research and innovation that can assist in solving some of the problems confronting the state"
"The University of Ibadan is an important aspect of this administration. We will like to collaborate with UI so that we can benefit from the research results that are lying fallow in the shelves. There should be a serious synergy between us", he said.
He hinted that the issue of tax between the government and the university must be quickly resolved as "the state is in a state of bankruptcy "
Earlier, the Council Chairman, Nde Waklek Joshua Mutka who led the delegation had congratulated the governor on his electoral success, pledging the support of the University for his administration.
The Council Chairman who thanked the governor for his personal donation of Twenty Five Million Naira in the wake of damage caused by rain in the University remarked that the university needed help from all Nigerians.