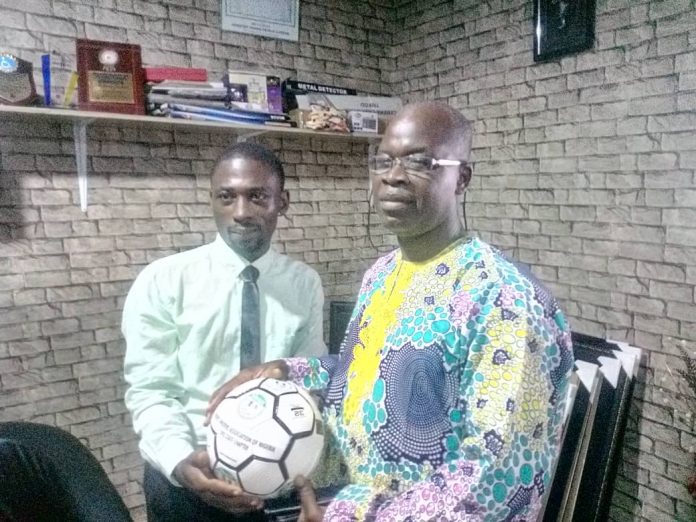 A sports enthusiast, Engineer Dotun Sanusi on Thursday, made case for the return of Principal cup and other grassroots sports competition at various secondary schools level in Oyo state.
He made the call while recieving executives and members of Oyo state chapter of Sports Writers Association of Nigeria, SWAN, led by Olaolu Fawole, at his resorts in Akanran.
Sanusi, who is the Chief Executive Officer of Ilaji Hotels and Sports Resort, Akanran, Ibadan in Ona Ara local government area of Oyo state noted that the competition would revive sports at the grassroots and pave way for talents discovery.
He recalled his experience at the principal cup competition where he played at different school fields including Wesley College, Odinjo playing field and Olubadan primary school as indelible, saying many super stars were discovered and groomed to represent the pace setter state and the nation at sporting competitions.
"We have lost touch with the grassroots, we use to have active people in sports before when I was young, every school in Oyo state had one competition or the other. We always look forward to principal cup, olubadan cup and other inter school sports competitions."
"I have played in Olubadan primary school, Odinjo playing field, a lot of talents were discovered. In those days sports masters were more popular than principals. When i was growing up, i usually followed my brother to watch shootings stars but now, it is not popular."….he said
The foremost grassroots Sports developer berated the deplorable state of sport fields and facilities in the Oyo state blaming it on lack of funding by governments.
"The little offering contributed by women of methodists was used to maintain its Wesley College and its sporting facilities.
"Sports writers should go back to the grassroots, look at Adekile good will,
CAC Grammar school and Ibadan Grammar School , Loyola college, the way it was before and its sorry state now."
"We need to promote sports and take it to next level, if we can not take it to international standard we can attain a developing standard because if the world of sports is not there all other thing is cosmetics"
"We are loosing the grassroots, nobody takes care of the fundermentals.Foreign trained footballers have dual citizenship. All the academy put together in Nigeria, the children there are not eager to play in the Nigerian League, they dream of european league."
In a remark, Chairman, SWAN, Oyo state chapter, who expressed the readiness of the association to bring back the lost glory of sports especially at grassroots level, solicited the support of philantropists and sports lovers to succeed.