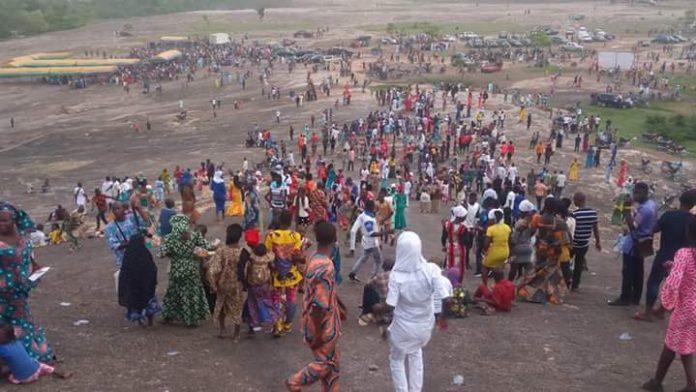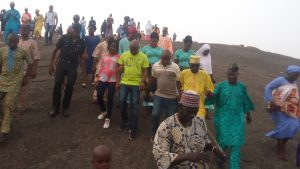 The consciousness of promoting domestic tourism by the government and individuals is gradually taking shape in Nigeria as  the ancient city of Igbeti came alive during the Easter period for the annual Igbeti tourism Carnival , an event that is gradually making its way into the world tourism calendar through  UNESCO and other tourism organization.
During the festival, business activities and hospitality sector were positively affected, all the hotels in Igbeti and neighbouring communities were fully occupied, cab drivers and motorcycle riders also testified to  increase in patronage during the festival. Restaurants and bar owners enjoy great patronage too, with most of the recording unprecedented sales, they couldn't  wait for another Easter to come around for Igbeti tourism carnival
Bosun Oladele , a lawyer and politician  who is also  an indigene  of the town said "   since the  carnival was initiated , we have been having influx of tourists from different part of the world , and one of the challenges  we had at initial stage was accommodation,  but today we've have new  hotels , restaurants  and other recreation centres and I believe before the next edition, there will be more standard hotel in Igbeti for tourists and fun seekers.
Apart from its closeness to Igbo Oba,  now old Oyo National Park, the centre of activities in the ancient oyo town, Igbeti is also blessed with large deposit of marble,  surrounded by 16 mountains  and hill including and stones images that have historical relevance to the community
Oke Agbele and Iyamopo are  two major mountain that attracts tourists  in the town, the stone image in oke Agbele , according to oral tradition is a picture of a woman with her baby strapped at her back and  load on her head, a beautiful  structure to behold, some  said its formation is as a result of weathering while some are of the view that it  happened real.
Iyamapo  hill is another tourists delight  in Igbeti, though not the same height with that of Idanre  but  has similar historical background with Idanre hill,  while the people of idanre lived on the hill the people of Igbeti  uses iyamopo  as an abode to hide during the war. Relics of a  barricade, is still much more on the mountain , also  two cave and a suspended lake were on the mountain too
Oladele, a member of the National Assembly   who is also one of the  chief promoter  of Igbeti Tourism Carnival told our reporter that " The mountain was  a save habour for our people from the invaders during war. They used to come here  to seek refuge and  after they had all climbed the mountain, the prepare draw soup like okra, and others and pour it on the mountain from the barricade so that it became difficult for those pursuing them to climb"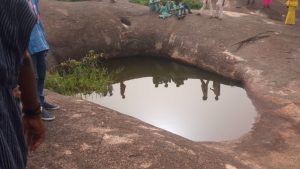 The suspended lake  on Iyamopo is called Orogunmeta ,  it is not like that of Ado Awaye, because it usually  dry during the dry  seasons but  the mystery behind orogun meta according to oral tradition is that three women who are married to the same husband formed the lake, its depth was not known  but caution was made for people not to deep their legs or hand in  search for the depth because it could  be dangerous,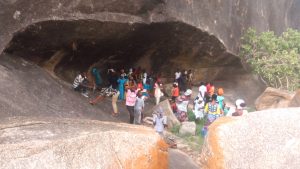 Sango cave is another site located on  Iyamopo, it is not far from  orogun meta lake, Sango is the of thunder, and he is one of the kings in Old  Oyo, its cave is not too big but it look different  from other known cave around,  it has a hollow entrance where tourists sat to take pictures, some of his devotee and those who know its cognomen were singing the panegyrics, a custodian of culture and tradition simply identify as Ajayi said  the  devotee use to come and worship Sango during Sango festival, he said people do come and eat ,drink and enjoy themselves
Iyamopo cave is also not up to five minutes trek from Sango's cave, it is ascended through a slope, not many people could reach  the cave because after ascending the slope one still need a physical fitness to jump or climb about 3 feet up before getting to the cave, it is wider  and than that of Sango, it accommodates more people and tourists were thrilled with the performance of  little boy who was chanting and entertaining people with  his melodious voice.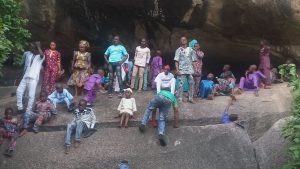 The whole exercise was fun, no ritual or any form of traditional rites were performed during the tourism festival, it provides an avenue to interact , makes new friends and  for photographers  and petty traders to make  money as people were buying water biscuits chewing gum and others at  rate higher that what they sell on a neutral ground for instance  the price of  pure water was jacked from N10  to N15 naira while chewing gum and sweet  of  N10  suddenly became 3 for N50, photographer did not go below N200,00 per picture ,  and they all enjoy great patronage.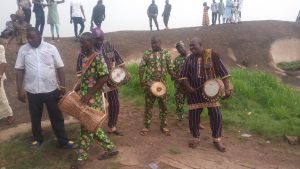 Away from climbing of mountain by tourists and indigenous people, the organizers of Igbeti tourism carnival also present an award from mountain climbers, best students,  and winner of Ayo games  at the grand finale, Also an award was presented to deserving members of the community  in recognition of their  contributions to the community development and advancement of tourism in the community
Speaking with our reporter on the annual event, Hon Bosun Oladele, a federal lawmaker representing Orelope, olorunsogo and Irepo Federal constituency at the National Assembly said "the tourism event is an annual event organized to bring people together, to promote domestic tourism and showcase the heritage  we have in Igbeti to the world , it is fixed during Easter period because will have time to come travel down and those who are around   will also have time to hang out with their friends and enjoy themselves
Oladele  while revealing the plan  and mission  to sustain the  event and enlist it in UNESCO heritage site said " we are making progress towards that direction, the organization behind this event that is  Igbeti tourism group is a group of like minds,  people who are passionate about the progress and development of the community , we task ourselves, and use our influence  to facilitate one things or the other, we had a short time plan the event and thank  God we achieve great things we hope subsequent edition will be better
Zito Peller, an international magician while commending the organizers of the event  suggest that entertainment by celebrities in the music industry and  indigenous arts  should  not be missing in an event like this,  apart from building confidence in the local art if they share stage with reigning musician, it will also attract more people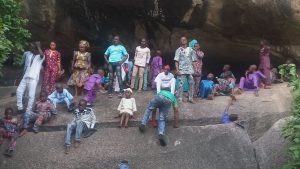 Taiwo and Kehinde Akinbiy, tourists from  Lagos joined their friends to be part of the  event, they commended the organizers for initiating the festival and wish to see more things added next year " this year is better than last year , and I hope to see improvement next year" said Taiwo,  who was around last  year.