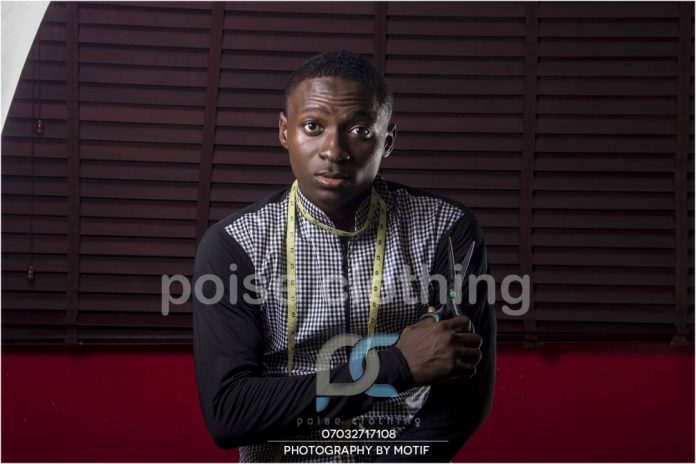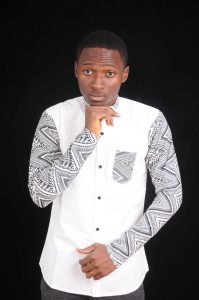 Adeosun Oluwatoyin is a creative fashion designer, a graduate of Politics and International relation Lead City University Ibadan  is the brain behind POISE clothing, an outfit that specializes in all style of clothing , in this interview with Remi Oladoye, Oluwatoyin explains why he dumps the prospect in Politics and International Relation to pursue his dream in Fashion. Excerpts
Why did you choose to go into cloth designing?
I started designing at a very young age, to be specific in Year  2005 , but before then I develop my passion in the fashion designing, I have been doing some artworks, like making  of greetings cards, drawing, painting,  I remember vividly when I was in jss3, I have a stuff like  that was fading off, and I decided to restore it  beautiful look so  embarked  on a research on it  and I got answers how to get the paint back,  I did the processes and that is how it started when I finished I love it so much and ever since I have consider creative designs and artwork a passion which I will invest my time and energy on
Did you study any art related course to help your vision  
Not at all, I studied Politics and international relation at the Lead City University in Ibadan I  believe that if I had attended  university  to study fashion designing, I might not get the major things that I need, many things may not be thought in school , also I might not be that encouraged  to pay tuition fees  to study fashion designing, so as a diplomat, instead of being an ambassador for my country or another company why don't I become my own brand ambassador and diplomat for my company and also groomed more diplomat
Being a graduate of politics and international relation why don't you pursue the carrier as a diplomat into foreign land which can give you big money instead of designing clothes
This is my passion, I also have a passion for what I studied in school too but on a scale the fashion is carrying much more weight and again when we are talking of money, I believe we can make money from anything that we do and I see a bigger thing in the fashion world even beyond what international relations job can offer
Who is your biggest customer?
My biggest customer,  I wouldn't like to be mentioning names  but I have great people as client both locally and internationally, I have quite a number of customers in the entertainment industry too
But  Is the business lucrative?
Yes very lucrative
 What's your greatest dream in this business?
MY greatest dream is to see poise clothing becoming a multinational company in few years  to come
 What is the disposition of your parent to your passion especially when you were sent to studied good course such as international relations and politics only for you to say you have passion for fashion designing?
My mum actually knew that was what I wanted for my life, even right from my childhood days they know allow me to do anything I show passion for so they were no skeptical or worried about it
Do you only design for other people to make for you or how do you do it
I do everything, I designed the cloth and make it, I actually designed almost everything
What kind of cloth do you design?
I do all type of dress, T shirt, jean, casual wear, corporate shirt,  suit and  jacket costumes , traditional wears , footwear and  anything you can think of in the fashion word.
Have you been involved in any fashion show
A lot, I am just coming from one
Have you won any award
I have won several award and I am still winning more
Who is or are your model in this business
In Nigeria, Voodi, Tailors is in Abuja also I have Aouch, in Lagos, modela in Lagos, outside Ortega, the owner of zara,
Can you share your ugly experience in this business?
I think the first cloth I made I spent about N1,500 to produce a shirt and it was priced for N700.00, eventually I sold the cloth for N700, the joy was that somebody could actual bring out money to pay for what I produce, I have that believe that if  someone can pay N700.00 today someone can also pay N7 Million tomorrow, so let me keep doing this and I am sure things will get better, after the person paid I went t him  and asked him where he feels I can improve on to make the it better next time and he pointed out some mistakes , like untrimmed  thread everywhere, some sewing lines were not straight  and others, the next time, gradually I improved and I open my job to criticism  and it has really  help me grow
Considering the economic in Nigeria do you think it's a better idea to invest time and energy into fashion designing?
The economic crisis in just English anyway, and recession is English, because it was in the heat of recession that we got our shop, and we were able to set up our showroom in Lagos , I tried it when there was no recession it didn't work
Some brilliant guys like you are into yahoo and other better money making ventures
No they are not making better money making ventures,
They make millions of dollars when you are busy sowing and selling in thousands
They only make fast money, we make lasting, money