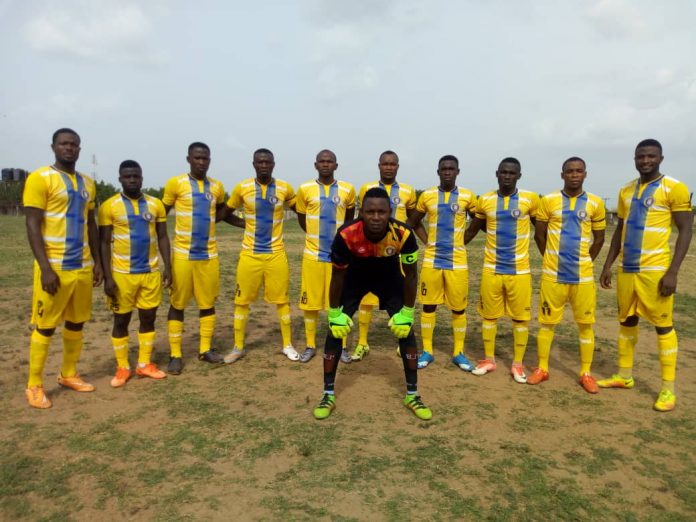 Two(2) goals from Chibuike Nwankwo put the Ajilete Warriors in a convenient and flying start in the 2018/2019 Nigeria National League.
The Soun Stadium was full of excitement as the lovers of Crown FC watch their darling team wallop Warri Wolves FC by two goals to nil on Sunday 21st April, 2019 at 4pm.
The tension filled, classical , dramatic and enterprising encounter started with a minute silence observed in honour of the Late Ex- Crown FC Supporters' Club Chairman,Azeezco, who passes away recently in an auto accident.
The Ajilete Warriors intensified pressure on the visitors through out the first stanza .
Chibuike Nwankwo's perfect header from Adeyemi Adeyeye's tailored lob in the thirteenth (13th) minute that will have put the homers ahead was saved by Mamudu Belema. More saves by the goal keeper of the Seasiders prevented the Soun Boys from scoring ,thereby, ending the first half in a goalless draw.
The substitutions of Ebule Jonathan, Promise Onyechukwu and Atsian Charles for Erhir Akpovokuare, Moses Onubunuke and Innocent Orupke by the guests did not add any value to the team as they continued with their delay tactics and balloon pattern of play.
Adeyemi Adeyeye's failure to convert a spot kick when David Donald hacked Ahmed Yahya in the box in the forty nineth (49th) minute did not demoralise the Oyekale led boys from putting more pressure on the visitors.
The deadlock was broken by Chibuike Nwankwo in the fifty eight (58th) minute when Tobi Adeyi's backwardly headed brushed ball from Muazu Taiwo that turn to a goal mouth scramble was converted into a goal.
The timely replacement of Isah Seidu and Muazu Taiwo for Obinna Christopher and Ibrahim Babalola brought more life into the game as the new entrants changed the tempo of the game completely.
Golden Nwachukwu was booked for brushing Tobi Adeyi on the knee,
Gift Samson too was cautioned for a rough tackle on Isah Seidu while Ikoko Andrew was sent off the pitch for a dangerous play.
Chibuike Nwankwo chested and controlled a throw in by Aleem Adebayo at the left flank in the last minute of the added time, took on Donald David and Uro Ibur and shot the ball to the far angle to double the lead for the Soun Boys.
The team media officer. Tunji Alabi said the Soun Boys will be on the road to Word Of Light FC in the Week Three(3) Group B4 fixtures of the NNL in the Southern Conference on Saturday 27th April, 2019.