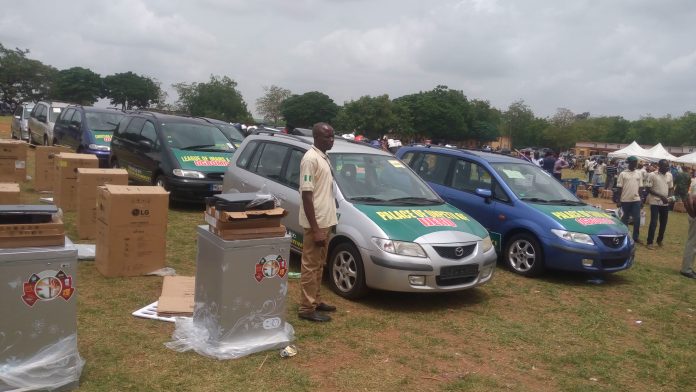 On fewer than 1000 people  including traders, artisans, religious organization physically challenged people  and traditional rulers  benefitted  from the empowerment scheme of    Hon Segun Ogunwuyi, the lawmaker representing Ogbomoso North/South/Oriire Federal Constituency at the lower chamber of the National Assembly.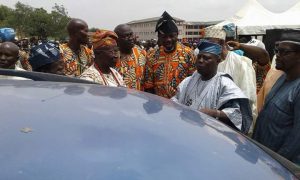 Items distributed   at the event held in Ogbomoso at the weekend includes  Cars, Motorcycles, Deep Freezers, Laptops, Fertilizers, Generators, Gas cookers, Grinding Machines, sewing machines,Standing Fans, Hair Dryers, cash gifts  to members of his constituents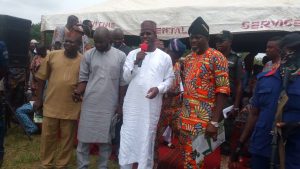 Ogunwuyi, in his speech titled 'Moment of Humanity, Truth and Trust' commended the constituentss for their support and assured them of his commitment to their welfare.
In his own words "Poverty is a global menace which seeks shelter through only one channel – poor leadership. We are giving out not because you are poor, but because we all have needs and the degree of our needs vary. We strive to give base on peculiarity and needs of the people.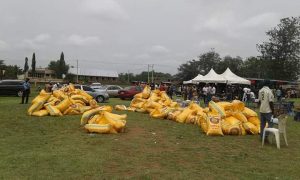 "As a lawmaker, who holds no executive position, I can't but go out of my way to ensure some levels of provisions for my people from my personal savings for this charitable cause.
"My vision in the House of Representatives is to promote programmes and facilitate projects that will place communities in Ogbomoso North/South/Oriire Federal Constituency on the path of sustainable development.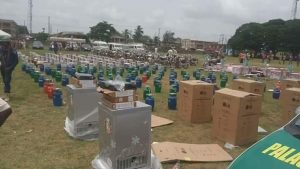 "This is also a thank you activity for all and sundry. Giving is a cause, and to those who might not benefit from this empowerment programme today, I want to say that this is a continuous exercise and your time will surely come" he said.
Rt. Hon. Yakubu Dogara, speaker of the House of Reps in his address  maintained that  the primary duty of lawmakers is to provide good representation for constituents and alleviate their suffering.
Dogara who was represented by Zakari Mohammed , Chairman House Committee on Education  noted that the government alone could not provide employment for all, urged the government to provide an enabling environment for the private sector to thrive.
Senator Abdulfatai  Buhari, the senator representing Oyo North senatorial district,  while commending the lawmaker for the gesture said "Ogunwuyi has passed and has performed fantastically".
The senator, who passed a vote of confidence on Segun Ogunwuyi for a second term, cautioned politicians against the politics of bitterness but be more concern about development and progress of their constituents
Also, the lawmaker representing Surulere/Ogo Oluwa Federal Constituency, Hon. 'Dokun Odebunmi Bunvic also said:"Representing the people means representing their yearnings and ameliorating their sufferings by and bringing them succour. This is not poverty alleviation but appreciating the people".
The lawmaker representing Iseyin/Itesiwaju/Kajola/Iwajowa Federal Constituency, Hon. Olasupo Adeola Abiodun, who presented the goodwill message, urged the beneficiaries to utilise these materials and shun every tendency to sell them.
In his opening remark, Mr. Solomon Ayanlola, the Ogbomoso North APC Chairman said that the initiative was in response to the plights of the people. Solomon, who urged the beneficiaries of the empowerment not to sell the items, said it was was a "gateway to financial freedom".
Some of the beneficiaries who reacted thanked the lawmaker for the gesture and promised their unalloyed support.
They appealed to the reps for more inclusive governance as well as provision of more social amenities such as rural water, rural electrification projects, employment opportunities amongst others.
The dignitaries who got their presence registered at the event included
Rt. Hon. Yakubu Dogara, the Speaker of the House of Representatives, duly represented by Rt. Hon. Zakari Mohammed (Chairman House Committee on Education), Rt. Hon. Saheed Fijabi (Chairman House Committee on Telecommunications), Hon. Adamu Usman (Kwara State House of Assembly Member)
Hon. Abubakar Garba (Commissioner from Kwara State).Hon. Musa Idris
Hon. Rafiu Adekunle (Former Minority Leader of Oyo State House of Assembly)
Hon. Niyi Farinto (Former Member Oyo State House of Assembly). Hon. Fatai Salawu (Former Member Oyo State House of Assembly). Hon. Yinka Taiwo (Former Chairman Oyo State PDP)
Senator Abdulfatai Omotayo Buhari
Hon. 'Dokun Odebunmi Bunvic
Alhaji Rasaq Gbadegesin Kareem
Hon. Olasupo Abiodun Adeola
Mr. Adewale Falana
Baba Akin Oke, Oyo state APC Chairman, duly represented by his deputy, APC stakeholders in Oyo state etc.