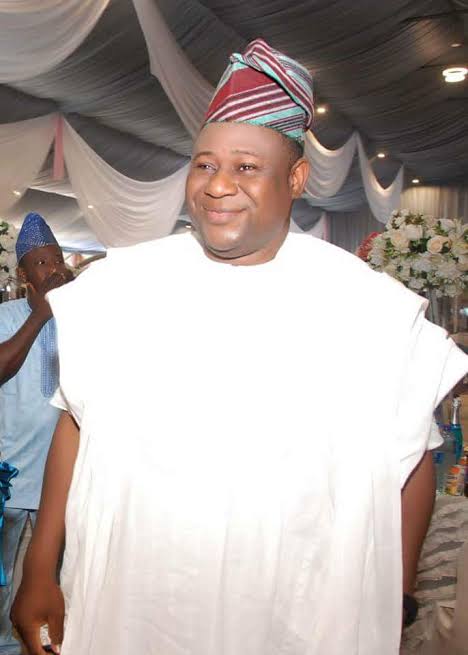 Vince Lombardi, a great American Soccer Star and Coach is of the view that "Winning is a habit, unfortunately so is losing". The life of Hon Olusegun Dokun Odebunmi reflects the true life of a winner who believes that with hard work and efforts, you can achieve anything.
Odebunmi is a genial lawmaker whose mission in life is simply "to run a career that thrives on the principle of
honesty and loyalty, by utilising the acquired skills to positively influence the life of the generality of the people." As an accomplished politician who has served at local, state and federal level,he is an achiever with remarkable achievements.
Born in Oko, Surulere local government area of Oyo state on January 1969, Olusegun Odebunmi, popularly known as BUNVIC is a successful entrepreneur, administrator and a politician of note . As an entrepreneur, he is the Managing Director of Bunvic Investments Ltd, a business entity in Oil and Gas, Agriculture and others with branches in some states of the federation and plans for extension abroad.
Prior to his adventure into politics, Hon Odebunmi was one of the prominent independent Oil marketers in Oyo state. He rose to the position of State
Treasurer of Independent Petroleum Marketers Association of Nigeria IPMAN in 2001 and left to contest and won the Chairmanship position of Suurulere Local Government Area of Oyo state which he ran between 2004 and 2007.
His outstanding performance in infrastructural development, provision of basic amenities, empowerment and support for farmers in the rural community fetched him another term as the interim chairman for five months in 2007 before he was elevated to full time commissioner for Local Government Service Commission,Oyo state from 2007-2011. As a Commissioner, he initiated and ensure prompt implementation of policies that positively influenced the activities of local government in the state.
While he was local government chairman, his accountability and honesty earned him the position of a treasurer for the Association of Local Government Chairmen Of Nigeria ALGCON in Oyo state and during his time, the account was always accurate with details of income and expenditure.
Towards the end of Alao Akala Administration in 2011, people of Ogooluwa/Surulere federal constituency beckoned on him to occupy the vacant space for the House of Representatives in Abuja and willingly, he accepted the offer and till date he has never betrayed the confidence reposed in him by the entire people of his Constituency. Today, he broken a jinx in Oyo state with record of three uninterrupted term at the House of Representatives.
Hon Odebunmi has a winning habit; he always wins when it was least expected. He always walk where Angel even fear to tread. Hugh Masekela said Whatever you go into, you have to go in there to be the best. There's no formulas. It's all about passion and honesty and hard work. It might look glamorous, but it takes a lot of hard work. The blessing with the arts is that you can do it forever."
Bunvic underastands the game very well, he has worked hard to warm himself into the heart of the people through his activities at the National Assembly and that is why they kept sending him back not beause he failed but to keep repeating the class and bring home juicy offers in form of employment oppurtunities for their younger ones, facilitating infrastructural development and provision of basic amenities for the people and empowering them with materials and cash to boost their economy and skill acquisition training programs to increase their knowledge in various fields.
Hon Odebunmi who is in his secod term as House of reps member from Surulere Ogo/Oluwa Federal constituency is not just a politician but a philantrophist, a passionate giver who believes in making people happier than he met them and that is what exactly he has been doing with the political power vested in him by his people.
He is not only active in his legislative duties, he is also dutiful in his role as the chairman House of Representatives Committee on Information, National Orientiation, Ethics and Value. He is working with relevant agencies to formulate and implement policies that enhances their smooth operation and development.
As a genial lawmaker whose aspiration is to rise to the position of the number one member of House of Representatives, he holds B.sc in Business Education from the presitigious University of Ado Ekiti and National Diploma from Federal Polythecnic Ede Osun state. He has also attended courses, seminars both in Nigeria, London, America and other parts of the world.
As an experienced lawmaker with the habit of winning, it is expected that Hon Olusegun Odebunmi's aspiration will be supported by those who are passionate about the development of South west, and Nigeria in its entirety. This is because he is a man who believes in unity of purpose and ready to give all it takes to run a house of representatives that will be remembered for remarkable contributions to the transformation and development of the country through effective legislative responsibilities and ensuring harmonious working relations with the Executives and the Judiciary.
Adebisi writes from Oko, Surulere Local Government, Oyo state