Hon Segun Dokun Odebunmi, lawmaker representing Ogo Oluwa/ Surulere Federal Constituency has facilitated an empowerment training program for members of his Constituency on Film Making and Cinematography for self reliance.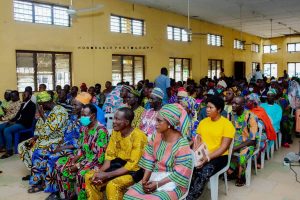 Odebunmi who is the chairman House of Reps Committee on Information, National Orientiation Ethics and Values said the training was part of his quest for Human Development.
In his opening remark, Hon Odebunmi said the event is one of the ways of encouraging the youths to think out of the box and make use of the technology advancement to create another source of income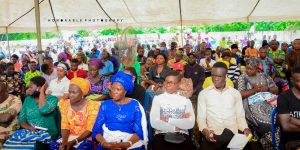 " I grew up in this community and i know what majority of our people are passing through especially now that the economy of the world is being challenged, people need multiple streams of income and i am making use of every opportunities to asist my people by training them on how to make use of their talent and make more money through entertainment
He however thanks President Muhammadu Buhari and leadership of the National Assembly fot the opportunity and urged the participants to take the advantage to better their lots .
The lead speaker Mr Maruff Ajibolu charges participants to take full compliment of the training as Nigeria's creative industries are slowly breaking new grounds and currently recognised as among the biggest globally. This he noted led to its marking as a priority sector in the FGN's Economic Recovery and Growth Plan with a very high projected income over the coming years and also led the Federal government to grant most segments within the creative industries including Nollywood conditional access to pioneer status incentives which includes holidays from the payment of companies' income taxes as well as withholding tax on dividends from pioneer profits for an initial period of three years.
In another remark, a key player in the creative industry, Mr. Muyiwa Ademola also hammered on the huge potential subsumed in cinematography and film making.while speaking with journalits he said the event is a rare opportunity, becauae it has always been either FG projects or CBN and World bank projects
"It was designed to help people discover their talents and passion with the intent of turning it into a source of income
The training which took place concurrently at Resource Centre, Igbo-Ile Surulere LG and Ajaawa Town Hall, Ajaawa, Ogo-Oluwa LG.Other notable speakers present at events were Mr Yemi Ogunyemi, Mr Ojo Oluwatona and others .