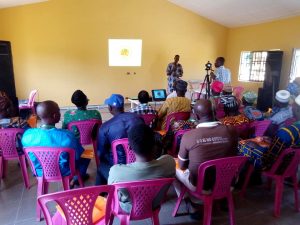 In his bid to boost and enhance youth participation in Agriculture, Hon Segun Doku Odebunmi, Lawmaker representing Surulere Ogo Oluwa Federal Constituency has facilitated training for hundreds of youths in his constituency
The agropeneur training organized by forestry Research Institute of Nigeria FRIN is tagged Strategic Agroforestry,Engagement/empowerment of Youths in Surulere/Ogo Oluwa local government area of Oyo state
Participants will be trained on Nursery Management and Seedling Production, Snail Farming Techniques, Bee keeping and Honey Production, Mushroom cultivation, Processing parkia Biglobosa into locust bean,Gracsscutter farming and business enterprise development
The two weeks training programme  commences on  Monday 2nd December and will end on  13th  at Igbo Ile resource centre suurulere local government
Speaking on the development, Hon Segun Dokun Odebunmi said the training is one of the  programme facilitated to increase the knowledge of his constituents  on Agriculture which is the mainstay of the economic in the area
Odebunmi who is the chairman National Assembly committee on Information, National Orientation Ethics and Value  maintained that " My constituents are predominantly farmers, and there is need for them to be informed about the development in the Agricultural sector so that they can produce more and make more money."
The urban –rural migration is of great concern,  our youths are not interested in farming because of the crude  and archaic way   of doing things but when they are informed and knowledgeable  about how they can make more money in farming, the  movement will reduce and that will attracts more development from government into the communities
As a lawmaker representing the people of Surulere Ogo Oluwa, it is my duty to enhance the living standard of my constituents and  one of the ways through which  this can be achieved is increasing their knowledge and  empowerment as well as facilitating low interest loan from government to boost their businesses.
Some of the participants commended Hon Odebunmi for  facilitating the training which they claimed  has further broaden their knowledge on Agriculture  especially on how to improve on production and marketing.
Oyekunle Oyebamiji  said " I have learnt something new today and i will go and put it into use, and i am optimistic that it will boost my income , i thank Hon Odebunmi and  FRIN for the training.