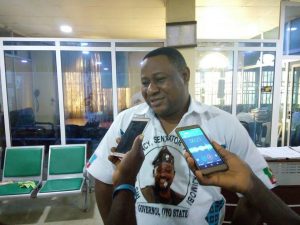 Hundreds of  people from Surulere/Ogo Oluwa Federal constituency recently benefited from Hon Segun Dokun Odebunmi empowerment scheme
The distribution of the empowerment items including 300 grinding machines, weed sprayer, sewing machine and others is in continuation of his contributions to the development of his constituency.
Hon Odebunmi a second timer at the Federal House of Reps is the chairman House of Reps committee on Information, National Orientation Ethics and Value and has in the past distributed various items  including cars and motorcycle for commercial purposes for his constituents.
He has also facilitated several projects such as connecting some communities to national grid, boreholes, road projects , employment opportunities and distribution of cash and other materials for students of primary, secondary and tertiary institution.
The lawmaker who recently defected to the All Progressives Congress APC with supporters  always attribute his political success to God and the people of his constituency who believed in him and always support him to achieve his political goal
While distributing the empowerment materials to beneficiaries, Mr Femi Akanbi, popularly called Oche the Legislative aides to the lawmaker said the decision to organize a solo empowerment part of the strategy
" Its not that we cannot organize an elaborate empowerment  program but we decided to  use the money for funfair to buy additional materials  so that more people can benefit .
Speaking on the mode of selection, Akanbi said ' 20 people were selected from each ward  in both suurulere and Ogo Oluwa for the grinding  and Sewing machines while beneficiaries for other empowerment materials were selected randomly from the public".