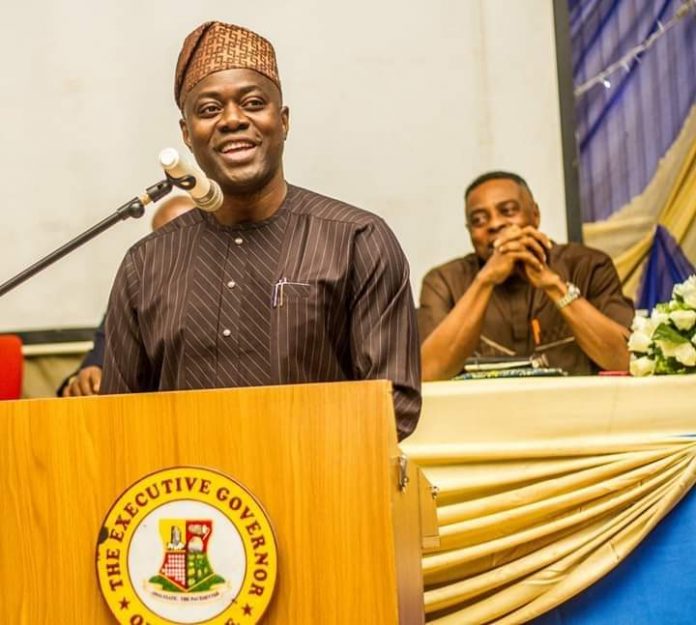 " We will be a progressive administration, building on the progress of past administrations that were structured properly and have been beneficial to the masses"- GSM
In our clime, politicians, to say most of them, are reputed for having penchants for making promises that would be later fulfilled only in breaches. They often adumbrate new visions and raise high hopes , all in a bid to curry the favours of the citizens but no sonner are the feeble promises made than deflated like punctured balloons. This perhaps has provided a necessitating ground for public distrust and triggered a sense of misgivings among impressionable voters who have been palavered by some mealy- mouthed politicians one time or the other.
Promises in political environment are easily spoken as they are easily broken,. It has reached an abysmal level where promises of a politician is counted as a castle built on the sand or in the air . Hence, the popular maxim " Half of the promises people say were not kept, were never made, if made by dishonest politicians. . It may be for this reason , Bernard Baruch, a wealthy American investor and political consultant, strongly advise that " vote for who promises least,he will be least disappointing". He is apt.
With the usual inconsistency between behavior and values known by psychologists as " psychology of hypocrisy" now becoming a trademark of the political class in Nigeria , when on May 29, 2019, the newly sworn in Governor of Oyo state , Engineer Oluseyi Makinde, mounted the soap box to reel out his novel visions for Oyo state and renegotiating development plans in the midst of capacity crowd at the ceremony, many observers would viscerally hope it was another quotidian ritual pledges that were periodically made by new Governors to warm themselves to the hearts of the populace. But ,in less than 100 days that Governor Oluseyi Makinde assumed office, it's becoming clearer by the day that here comes a man of nobility with enobling attitude like an old boys scout, who hold taughtly to it's motto ' of " a scout,s honour is to be trusted ", Engineer Oluseyi Makinde has opened another Vista of trust building in politics thereby boosting confidence of the people in the duty bearers and usher in an era of open Governnance system in the pacesetter state like never before.
A state exists for the sake Of good life and not for the sake of life only. At his swearing in ground at Liberty Stadium, GSM,as Engineer Seyi Makinde is now popularly called , signed a new bill of social contracts with the good people of Oyo state. He promised to restore " squandered hope " and bring a boon to the vessel of the state by focusing primarily on and implent only issues of public interest .
Whereas ,his immediate predecessor carved a self image of " Constituted Authority " a version of italian "capo de capi' for himself, Governor Seyi Makinde prefers to leave a legacy of a man of the people from day one. " I will be People's Governor". GSM assured the people of Oyo state enpassant in his inaugural address.
GSM also made his noble intention for an all inclusive education known in what he called a critical education which could help to form a critical attitude. He bemoaned the poor standard of education and proliferation of the school drop- outs in the state To the admiration of the people , he averred that " We will be a pacesetter state in education…. Effective immediately, the school fees of 3,000 naira in the state owned secondary Schools is hereby abolished, we want enrollment to go up ,we want our children off the street and back to the classroom". He further promised to rehabilitate dilapidated structures in the schools as part of his education sector reforms. He is already hitting the right notes on this.
With benefit of hindsight, I vividly remember a radio interview during the election campaigns, where Engineer Oluseyi Makinde stated that happiness of a human can be determined by the function properly of his soul. He therefore assured the State Civil servants of a balmy days ahead where their salaries would be paid promptly as at when due and other benefits duly attached. He said " before I pay my aides, I must have paid the salaries of the Civil servants". His was a promise made, a promise kept.
A transformative leader ,they say, builds himself before the empire. Governor Seyi Makinde emphasized the values of hardwork, openness and transparency in Governnance. He assured that he would entrench the culture of probity and accountability , that will ultimately stall abuse of power in the running of public office. He said " Everyone of us in every walk of life must embrace accountability and hardwork ". For the sake of emphasis, GSM is the first Governor in the annal of Oyo state to declare his assets Publicly on assumption of office. History has also reserved a page for him as a Governor who plans to establish " Anti- graft Commission in the state " and volunteer to waive his immunity and present himself for scrutiny, when the need arises. He is, no doubt on a mission to deactivate the gravy train in the state and punish those connected with it without minding their social status. As hlighted in virtue Ethics, " When one chooses a public life, he chooses not to live a private life". GSM exemplifies official Transparency ,not just a figure of speech.
As a caring Governor that desires equal opportunity for all, Seyi Makinde,s policies ,does not leave out the disadvantaged people in the society. . He maintained ,in his inaugural speech that " We will establish a Commission for people who live with disabilities. We would develop an institutional framework enforcing compliance for equal opportunity principle". He did.
A prudent manager of resources that he is , Seyi Makinde pledged not to embark on new projects unless he is successfully done with the uncompleted projects of the past administrations that are beneficial to the masses. It is noteworthy that his administration has just completed a model school which was started but abandoned midway by Governor Abiola Ajimobi.
As a person who shares the thoughts of and snugly fits into the description of a great leader by the American essayist ,poet and philosopher, Ralph Waldo Emerson who says that a " A great leader should not follow where the path may lead but goes where there is no path and leave a trail' a man of unusual capacity, GSM has blazed some exemplary trails for Oyo state in the last 100 days in office in a very unique way Permit me to mention but a few areas where he has so far made qualitative difference in Governance.
Governor Oluseyi Makinde is the fist Governor to have a female SSG, appointed a 27 year old commissioner, donated his entire Salary in office to the Teachers pension Fund to alleviate the burden of pensioners, declared his assets publicly, started paying workers salary on the 23- 25 of every month, created a Commission to address the issue of the less privileged in the society ,assisted indigenous law school students with a whooping five hundred thousand naira each, abrogated the 3,00 levy and Exam fees in public schools, repositioned the security apparatus of the state , commissioned a committee to probe LG finances for proper accountability , criminalised open grazing, launched Oyo state Farm Crowdy Agric- business patnership, donated free exercise books that advertised neither self portrait nor party logo, Cleared pensioners backlog of salaries and arrears and of course the first to tell the public his precise monthly salary.
It also bear emphasis that GSM is the first Governor without a defacto godfather. Recently, when playing host to the delegation from Four Square Gospel Church in his office , he noted with pride that " it is the first time in the state that I know,I don't know about any other states where somebody is elected with no godfather,except God the Father". He is an unusual Governor without the usual practice of leaning on godfather(s).
The prayer of the people of Oyo state who have started to feel the gentle breeze of GSM ,s administration is for the omnipotent God, the Father in whom GSM reposes his trust and confidence, continue to guide him and make his vision for a greater Oyo state a reality. It's indeed a new dawn in Oyo state.
.
Wishing the People's Governor a Happy 100 days in office.
Alhaji Isiaka Kehinde
editorethics@gmail.com
For the Oyo state Caterers.