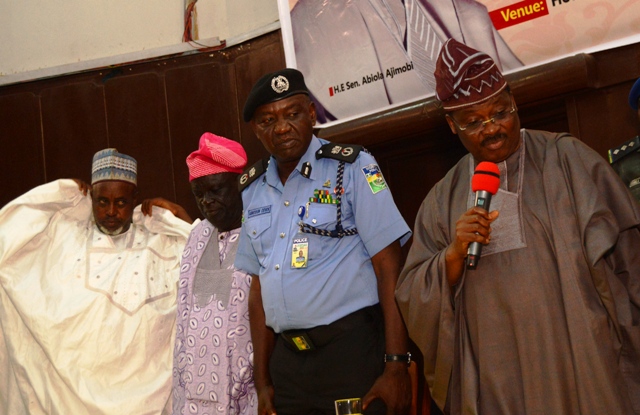 I am seriously alarmed and rightly so at the sudden invasion of Eruwa community by the Government of Governor Abiola Ajimobi of Oyo state presently.
The speed, manner and ruthlessness employed by Governor Ajimobi in his bid to establish the dreaded and infamous Cattle Ranch in an expanse of Land running across Okolo and Temidire villages in Eruwa leaves a sour taste in the mouth.
Apart from going ahead to advertise the said Land without recourse to critical stakeholders in the community, most especially, Elders, Leaders of the community and present occupiers of the advertised Land, I have been reliably informed that Government, after that infamous advertisement invaded the villages on the proposed site issuing them a quit notice with threats! As if that was not enough, a meeting of Ibarapa Elders where the issue was to be discussed and positions taken by the elders against the unholy invasion this yesterday at Tafo Arena, Apata was botched.
Reason: His imperial Excellency, Governor Ajimobi ordered the place to be sealed up by police. Since this events began to unfold, I have taken some time to ruminate on why a Governor who swore to an oath to protect the lives and properties of the people of his state, Eruwas inclusive will suddenly turn round 360 degree and be insistent on bringing a project that is certain to visit violence and destruction on the same people he swore an oath to protect?!
Prominent Social Political organisations like Afenifere, Ohanaeze, Pandev and The Middle Belt Elders Forum have all come out in vehement opposition to this harbinger of blood called Ranching. What is more, Governors of Ebonyi, Benue and others mentioned as co-pilots have come out to reject the proposal of blood.
Governor Ajimobi, what exactly will you benefit from bringing this time bomb to our community? Did anyone ask for it? Wait a minute, is the Governor doing this to assuage the ego of a higher political Authority for his own future political sustainance? Or could those insinuating that Eruwa is about to be punished because we exercise our Constitutionally guaranteed right to vote a Candidate of our choice on June 2nd be right? I hope not.
Does the Governor take into consideration the fact that Ibarapa is the smallest of the zones in terms of Land mass and population? Why would he be so bent to take the little we have to give to Fulani Herders from far and wide? Is he considering the fate of those poor farmers he is about to deny their means of livelihood when he ejects them from their farms? I believe Governor Ajimobi still have blood and water running in his veins. If he is bent on going ahead with this catastrophic scheme, he is so free but he should take it away from Eruwa. We hardly have enough land for Agriculture.
We are a peace loving people but that does not say we fold our arms while Governor Ajimobi bring impending and imminent evil to our territory. I urge the Governor to immediately rethink and take his Ranch elsewhere. At least, this is our heads, we never asked him to help us shave it.
Okele gbigbe pelu itelorun… If the Governor is so intent on doing something for us in Ibarapa, he could concentrate on the ongoing Eleyele-Ido-Eruwa road project and we would be eternally grateful but cattle Ranch? Capital NO. I will like to end by referring to this quote by Sherilyn Kenyon in Son of no one on the way evil works: "evil works never from enemies you saw coming.
Only those closest to you could destroy you. The ones you mistakenly trusted. The ones you allowed to mislead you because the pains of living without them was greater than the pain of tolerating them". Who is deceiving you that accepting Ranching is the right step, Y.E? Sola Abegunde