Speaker of the 7th Assembly and Governor of Sokoto State. Hon Aminu Bello Tambuwa,, Former Governor of Kano State, Musa Rabiu Kwakwanso,  former Governor of Niger State,  Babangida Aliu ,
Former Governor of Imo State, Emeka Ihedowa were among the eminent personalities that graced the 60th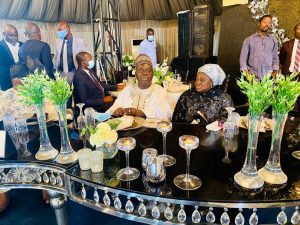 Birthday Dinner and Book launch of Hon Mulikat Akande Adeola, former majority leader of the House of Reps.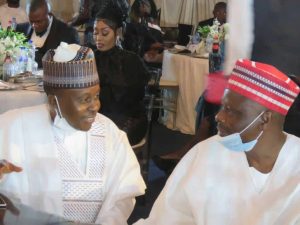 The event which was held at Blue Velvet Marquee Cardinal Park  Wuse on Wednesday also had Hon Olubunmi Etteh, former Speaker House of Reps,Senator Raji Rasaki (Rtd), Bola Sagaya, Hon Olusegun Odebunmi, Hon Akinwale Akinwole. Hon T J Yusuf ,Betty Appiafi  Professor Adepoju, DG FRIN, Engr Remi Oseni,  Mr Tommy Oyelade, Retd Permanent Sectary, Chief Adegoke, (Megida)  among others  in attendance.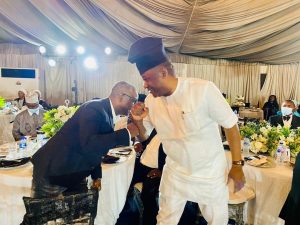 Also Minister of Youth and Sport Mr Sunday Dare, Minister of Women Affairs, Ogun state commissioner for  Federal character, Hon Akinlade and representatives of the Former president of Nigeria President Goodluck Jonathan  and grace the occasion.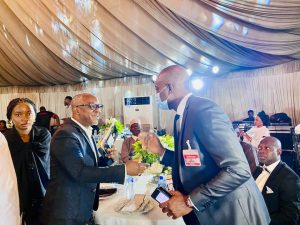 The Ogbomosho born lawyer and politician was a member of the Federal House of Reps from 2007-2015 , during her second term she was the majority leader of the House.
At the event, all the speakers shower encomium on the celebrants for her contributions to the political development of Oyo state and Nigerian at large particularly how she did not allow her gender to rob her of her significant role while at the National Assembly.
The book entitled Driven By Passion was an account of her sojourn in life, her background and  how she uses her influence in politics  to influence the society.
The party continue in Ogbomoso on Saturday