Tourism,a low hanging fruit is one of the surest and steady way of generating income and creating jobs without any stress but it is unfortunate that most states in Africa do not consider it as something important just because of the oil  economy.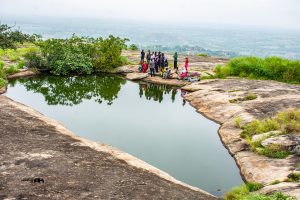 Oyo state, one of the oldest states Nigeria  is endowed with humongous tourism potentials ranging from eco-tourism, historical and cultural, monuments religious tourism and many others but these assets are not being used for the purpose they should serve but rather wasting away without any form of patronage or packaging from the promotion of domestic tourism
From Ibadan to Ibarapa to Oke Ogun, Ogbomoso and Oyo, most of the towns have one assets or the other, some in raw forms while some have been tampered with but majority are not being  properly developed or  used as a means of generating income , the immediate past administration started with the renovation of Agodi Gardens and concieved an idea of a five start hotel in Ibadan the state capital but that was just a minute from the numbers of tourism potentials in the state even the Agodi gardens was not properly managed and its obvious it has not generated the exact amount spent on its upgrading let alone profits but the good thing about  is that its a nice move towards the  development of the sector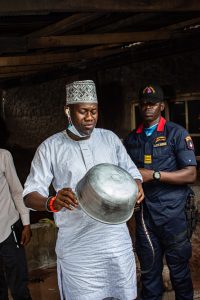 Researchers and academics at the Csntre for Sustainable Development, University  of Ibadan and other stakeholders in their findings reveals that Ibadan alone has about 200 tourism sites asides the attractions in other zones which can make the state a preferred tourism destination for both local and tourists.
The appointment of Hon Akeem Ademola Ige by the state governor Engineer Oluseyi Makinde, as Special Adviser on Tourism is one of the positive  step taking by the state governor Engineer Oluseyi  Makinde  in revitalization of the sector in the state and since his appointment, the former council chairman and former minority leader  at the state  House of Assembly who is also the Baameto of Aare Ona Kakanfo has been meeting  stakeholders and making move to ensure Oyo state truly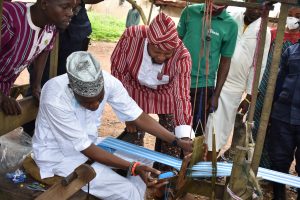 set a better pace in tourism development and preferred destination.
Recently, he led a team including a member of the state Tourism Board, Ms Sara Shobowale, Deputy Director Tourism Mr Mayowa Fagebo, Oyo state coordinator of Fededation of Tourism Association of Nigeria FTAN, Erelu Funmi Rotiba and some journalist on a tour of on tourism potentials in Oke Ogun. During tge tour he also met with some prominent traditional rulers and council chairmen to intimate them of the need to collaborate with the state government in developing and promoting tourism sites in the state.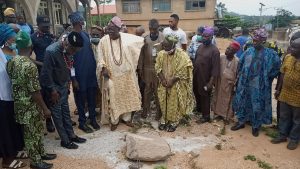 Some of the sites visited includes, The Biggest Aso Ofi Weaving Centre in Nigeria located at Oke Ola Iseyin, Iyake Suspended Lake in Ado Awaye, local pot fabricators in Saki, Igbo Oba, Abinuwole, in Igboho Oke Okin Oke Agbele, Bata in Igbeti, Adasobo Hill in Kishi, Ogun Ojalu , Aleja , Warriors Arcahde and a burial site of one the warriors in Ogbomoso.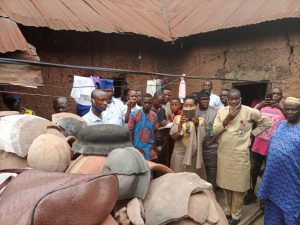 Hon Ige during the meeting with the traditional rulers and council chairmen urged them to collaborate with Gov Makinde's administration in giving tourism a facelifts, he intimated them of Gov Makinde's determination to use tourism as a tool for economic development and job creations and apart from applauding the governor for his giant strides the traditional rulers including the Aseyin of Iseyin Oba AbdulGaniyy Adekunle, Alado of Ado Awaye Oba Ademola Fowokanmi, Okere of Saki, Oba Khalid Adebisi, Iba of Kishi Iba Moshood Oyekola Lawal, Alepata of Igboho, Oba Joel Olawuwo Olasorogan, Ona Onibode of Igboho, Oba Abdulrasheed Anikulapo Jaiyeola and Onigboho of Igboho Oba John Bolarinwa Oyetola give explicit information about the tourism potentials in their domain and their desires to development and patronage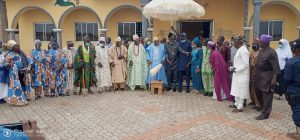 Hon Ige in a chat with journalists after the tour said the essence of the trip is on the spot assessment of the potentials and to see where and how the state government can do something on the sites for income generations job creation
"
Gov Makinde hinted that some investors are already showing interest in partnering with the government in management and promotion of some of sites especially. Adding that Governor Makinde will not waste state resources into where it will not add any value, this tour is basically to assess the conditions of the sites after which i will submit my report and the government will take actions.
Erelu Funmi Rotiba, a tour consultant and  State Cordinanator of FTAN who was part of the tour said the move to promote domestic tourism and use it as a tool for economic development by gov Makinde is a welcome development which she promised would be aupported by FTAN and other stakeholders in the sector
"For close to twenty years in tourism industry none of the administration in Oyo state has shown the level of commitment to tourism  which Gov is showing now. he is building uo infrastructures to ensure access to the sites and the move on PPP is a good one that will enhance rapid development and actualization of his vision for tourism"