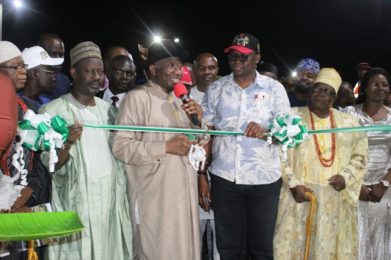 Former President, Dr. Goodluck Jonathan has   lamented that the Fulani herdsmen crisis and the depreciating value of the Naira have turned Nigeria to a butt of joke and ridicule in the international community
Just as he  urged Nigerian leaders to show serious concern, noting that many things had gone wrong in the country.
He said this on Friday night shortly he inaugurated the 1.3 kilometer Ado-Ekiti Flyover and new Governor's office.
Speaking on Ekiti  gubernatorial election,  the former president urge  President  Buhari not to rig the election for his party, the All Progressives Congress (APC).
He advised President Buhari to protect his good name by allowing the conduct of free, fair and transparent governorship poll in Ekiti and resist the temptation to use the state machinery to rig in favour of the APC.
"I don't believe anybody can defeat the PDP in Ekiti if election is going to be held. I want to advise President Buhari not to deploy power to truncate Ekiti election.
"I use this opportunity to call on Mr. President because I was there before. When you are there, there is so much pressure on you to use your power to subjugate democracy. Don't do that because when you are going; the only thing you leave behind is your good name. If you use it wrongly, posterity will haunt you. I call on Mr. President to use his power to strengthen democracy."
"The will of the people must be allowed to stand at all times, because power belongs to them and we must respect their verdict through the ballots."
Governor Fayose in his remarks  said the 77-member election committee raised by the APC for the Ekiti governorship election showed the desperation of the party to win at all costs.
"I will defeat them by the grace of God," he said.
Fayose declared that he would land in Abuja Presidential Villa at the end of his tenure while Olusola will continue with his legacies in Ekiti as governor.