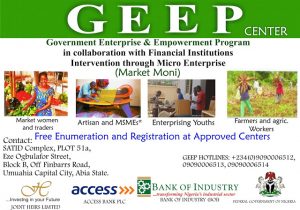 The Government Enterprise and Empowerment Program ( GEep) has advocated for more  sensitization and education of the rural populace of the availability of the there is the need for more  sensitization and education of the rural populace of the availability interest free loan in the country.
GEep Advocacy platform made the call in a communique made available to journalists in Ibadan at the end of its recent workshop held in Abuja
At an interactive session during the workshop, participants at the advocacy platform  "resolved to work together to achieve the objective of GEEP through GAP and also committed to mobilizing a total of 1,037,000 beneficiaries within 4months if all the impediments challenging the successful implementation process were surmounted."
GEep maintained that to make this a reality, there is the need for "a stronger synergy to be established through partnership with religious and community leaders for holistic process ownership to achieve success in the implementation process especially disbursement and repayment of the loan
It stressed that with the  establishment of "a sustainable Mobile Money Agency Services will no doubt promote financial inclusion in the rural areas." and
that "the management of the GEEP process should include national association leaders for process ownership, accountability and sustainability of the programme".
"A closer partnership and synergy between GAP and BOI should bestrengthened for seamless implementation of the programme to achieve the desired objectives.
Discrepancy in information dissemination by BOI should be streamlined. Partnership between GAP and the media should be enhanced adopting investigative journalism as a tool for the advocacy on GEEP implementation".
While assuring its commitment to ensuring transparent leadership for the sustainability of the platform and partnership with stakeholders and to follow up on the deliverables, GEep added that "there should be specific timelines on deliverables of the GEEP implementation for easy monitoring, evaluation and appraisal for appropriate policy formulation. "
ENDS