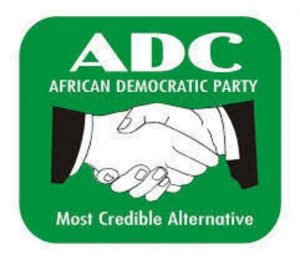 African Democratic Party ADC in Oyo state is currently enmeshed in crisis following the disagreement over plan to impose Senator  Olufemi Lanlehin as the gubernatorial candidate for the party.
The party is holding its gubernatorial primaries today at  Liberty Stadium Ibadan.
Some of the aspirants and members of  party executives  are not comfortable with imposition plans are demanding for credible free and fair primary to select candidates  for the party.
Investigation reveals that Senator Lanlenhin is the anointed candidate of some  party leaders including Senator Rashidi Ladoja , a former governor of Oyo state and Chief Koleosho a former secretary to the state government and chieftain of the party in Oke Ogun.
It would be recalled that 13  gubernatorial aspirant are vying for the number one position in the state.
The aspirants includes: former Secretary to the State Government, Barrister Sharafadeen Abiodun Alli, Senator Olufemi Lanlehin, Dr. Muhammed Kola Balogun, Engineer Rauf Aderemi Olaniyan, Chief Ayodele Adigun and Dr. Yunus Akintunde.
Others were: Ambassador Taofeek Arapaja, Senator Gbenga Babalola, Dr. Nureni Aderemi Adeniran, Mr. Oluseye Opatoki, Chief Festus Adegoke, Barrister Lowo Obisesan, and Engineer Aderemi Oseni.
According to the party in a statement signed by its publicity secretary, Comrade Adedapo Ademola, and made available to journalists in Ibadan, the Oyo State capital, those who are meeting with some leaders without the consent of the state chairman and state working committee of the party do so at their own risk.
"The party, from the beginning, has said that it will choose its candidates for all elective positions through primaries. We believe that this is necessary in view of what led us out of our party into our great party.
"We all came together to make this party the darling of the people of the state. We were all victims of imposition and other anti-democratic principles in our former parties. If we left our parties because of this, we should not indulge in such in this new party if we really want to make good showing in the 2019 election.
"We believe that if anybody would lose, it should be done in a democratic way. And everybody will be happy for it. We, the Executives of this party, are not aware of any adoption of planned primaries. Our party is about to complete screening exercise and would announce dates for primaries."
It was also gathered that some of the gubernatorial  aspirants are being persuaded to go  for Senate or House of Reps Seat .
As at the time of filling this report it was reliably gathered that one of the  gubernatorial aspirant has already secured another party's ticket   while some are negotiating with APC and PDP