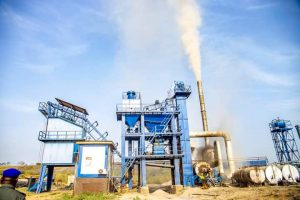 Former Governor of Oyo State Senator Rasheed Ladoja has commended Governor Seyi Makinde for reactivation of Moribund Companies that were deserted by the past Administrations in the State.
Senator Ladoja gave the commendation during an assessment visit to Pacesetter Quarry and Asphalt Plants Ijaye Ibadan.
The revived Pacesetter Quarry and Asphalt Plant Ijaye that was established during Senator Ladoja"s Administration (2003–2007), but went Moribund due to lack of continuity in programmes by two successive governments (from 2007 to 2019) after Senator Ladoja's tenure.
Governor Seyi Makinde and Former Governor Ladoja toured round the plant and as expected, the quarry machines were active crushing stones to be loaded on trucks waiting to convey the rubbles to the construction end users.
Speaking to news men over the assessment visit, Senator Ladoja lauded Governor Makinde for reviving the Ashphalt plant dream. He described the Governor as a visionary who wants the best for the State.
In his remarks, Governor Seyi Mankide said his administration will continue working to resuscitate all the Moribund Companies in the State.
On the Governor"s entourage was the Chairman of the State advisory council, Senator Hosea Agboola, The Director General of OYO STATE INVESTMENT AND PUBLIC PRIVATE PARTNERSHIP AGENCY, Hon Segun Ogunwuyi, while Former Governor of Adamawa State, Bony Aruna also came along with Senator Rasheed Ladoja.
Since Governor Mankinde took the mantle of leadership in Oyo state, he has taken the bull by the horns, to revive Some Moribund Companies in the state in order to generate more incom and boost the State economy.