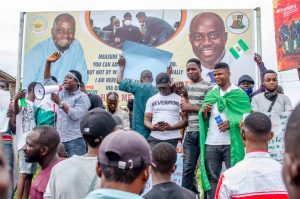 #Endsars protest continued in Ibadan, Oyo state capital on monday morning as major roads including the entry and exit points were blocked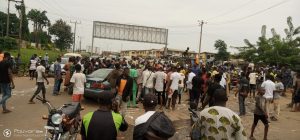 As early as 7:am commuters plying interstates were prevented from coming in through Iwo road, Toll gate as well as Apata and Ojoo while major are witnessed large gathering of crowd mostly youth chanting anti-government song.
Government Secretariat, Mokola roundabout, Sango, Alaro, Challenge, Eleyele, Bodija Ojoo and other area were lock down and vehicular movement was restricted to people with emergency cases.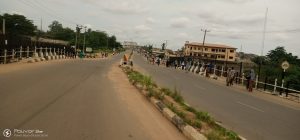 Also in Ogbomoso, the youths in their thousands gathered at Takie square for their protest
Some of them who spoke with our reporter said the essence of the protest is to send signal to the president that all is not well and that he should resign of he cannot bring the changes he promised us
'We voted for him with the hope that we will get the desired progress that we need in Nigeria but rather than making progresse thinga are getting worst, education is in comatose, health is not getting the desired attention. no job for the youths, no good roads, poor electricity supply and others enough is enough we must move on and have a better Nigeria' said
one of the protesters
Another one at Idi ito said 'what really triggered the protest is the fact that the Army said the want to release operation corodile smile is it to come and kill us or what, we are asking for our right and they are threatening with Army, will that solve the problem ?we are battle ready it is either now or never, there must be an end to nonchallant attitudes of the people in government to the plights of the common man on the street.
Obviously majority of the people who joined the he protest don't share the idea of the initiators as hoodlum and area boiz have taken over at some of the locations driving and riding motorcycle reclessly with  a lot of people on it while some re busying  demanding money from motorcycle riders and car owners before they allow them to pass.