The immediate past secretary of the Nigerian Union of Journalist NUJ Oyo state council on Wednesday organize a get together to celebrate the Vice President of the Association, B zone Comrade Cosmos Olalekan Oni on his 60th Birthday and retirement from Government service.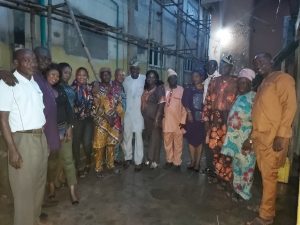 The event which was held.at Maggie Kictchen Oke Ado Ibadan was attended by friends and professional colleagues
Oni who is the National Vice President of the Union retired as a Director at Oyo state ministry of information, culture and tourism last month
The Chief Host, Bola Ogunlayi in his brief remark said the celebrants is a good friend and professional colleague who deserved to be celebrated because he has never betrayed the confidence reposed him him
"Since i knew him, he has been a jolly good fellow and one of the way to appreciate good people like him is to celebrate them while alive and i pray that celebration will not cease in his life and family
Comrade Adewumi Faniran and Mr Dele Ogunsola in their remarks commended Ogunlayi for celebrating Comsons oni who they described as a a strong pillar in NUJ politics.
He is my leader, he stood by me as NUJ chairman even when the National body is playing politics with the credibility of the Union he stood his ground and maintain the path of the truth which he is known for and i know very soon the truth shall be revealed" says Faniran
"Since i met him in 1992, he has been actively involved at NUJ politics at the chapel, state and National level and thank God he did not soil his hand, we hand, we had issues but that doesn't affect our relationship as friends, i happy that he retired well, he didn't die in service and i pray that God will continue to bless him
In his remark, Oni appreciated Mr Ogunlayi for his gesture and promise not to betray the confidence reposed in him by friends and professional colleagues.
Oni who is now an Editor with Kings Fm Ibadan explained that he will not relent until the union is well positioned and taken to a greater height.
The gathering also celebrated Mrs Busola Adetunji on his promotion to the position of a Director in the ministry of information, Culture and Tourism.