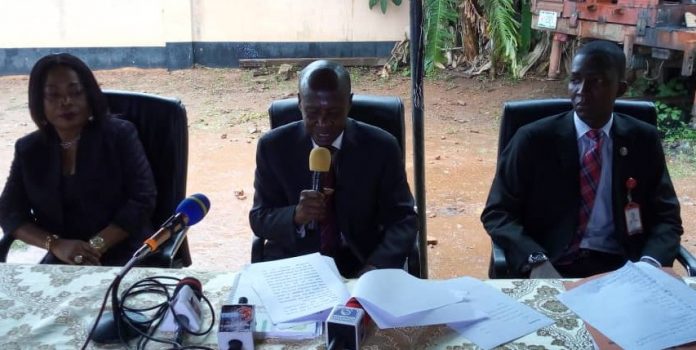 The Acting Chairman of Economic Financial and Crimes Commission EFCC Mr Ibrahim Magu has said the activities of the agecy is in line with the international best practices and does not engage in witch- hunting.
Magu while speaking at the stakeholders meeting held at the Zonal headquarter of the agency in Ibadan said EFCC is not partisan and not working for or against any political party or certain people.
The Acting chairman maintained that " In all we do we are indeed guided first by the fear of God and patriotism to our fatherland and rule of law".
" For us at the EFCC, we are driven by courage, integrity and professionalism and our commitment to the common task of improving the lot of out people at the grassroots as we promote working partnership with all stakeholders need not to be over emphaszied".
" The havoc that corrupt practices have wreaked on Nigeria economily is no doubt endless, and i do noy intend to bore you with them. This is why fighting it to a standstill is not only a must but the only lifesafer for our country as to save the next generation".
"It is pertinent for us to see ourselves as stakeholders in this fight .We must collectively strive to achieve the Nigeria of our dream, one which our children , indeed even generations unborn will be proud of."
He however disclosed that over 150 cases have been prosecuted and will be followed to a logical conclusion.
While charging the media on effective coverage and support in the fight against corruption , Magu urge the journalists not to relent in their effort to expose corruption and promote sanity in the society.
Some of the stakeholders including Comrade Waheed Oloyede, state Chairman Nigeria Labour Congress, Mrs. Dolapo Dosumu, state cordinatot National Orientation Agency, Pastor Benjamen Aremu, President Christian Association of Nigeria and other stakeholders lauds Magu and the EFCC for the initiatives.
They commended his effort in the fight against corruption and urge him to continue to ensure the sensitisation on the fight against corruption is extended to the grassroot for effectiveness.