In his continous efforts to ameliorate the suffering of the people and reduce the effect of water scarcity in Ibadan, a member of the Federal House of Representatives Honourable Dapo Lam Adesina on thursday commissioned  6 additional motorised borehole for public use.
The lawmaker representing Ibadan North East / South East in the Hous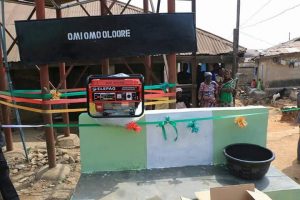 e of Representatives, Abuja, was hailed by residents of the hosting communities and afforded the executives of Landlord and Tenants Associations of Fanawole – Abayomi, Atipe Oje, Okesuna, Adesola, Odo – Oba and Ojolowo(Kobomoje), Ibadan South and North East local government areas respectively to commend the legislator for making good of his electoral promises to the electorate.
Dapo-Lam at the different scenes of the delivery of the boreholes supported with the generating plants expressly thanked the people of his constituency for their understanding and unalloyed support since his assumption into the green chamber in 2015. He implored the benefiting community people to make good use of the project by imbibing maintenance cultures to optimally enjoy the water installations.
The youthful legislator said the aim to support the new facilities with the generating plants was to further mitigate the hardship usually necessitated by the erratic power supply. Also, he availed the occasion to assure the stakeholders in the community of adequate delivery of all his electioneering promises having constructed 27 motorised boreholes among different lofty programmes being facilitated for different category of the constituents.
Scores of All Progressive Congress, APC stalwarts and executives of Community Development Association, CDA, who spoke at the event enjoined the residents of Ibadan North East and South East to continue to live in peace and harmony and continue to support the ruling All Progressives Congress, APC in the State and Country.