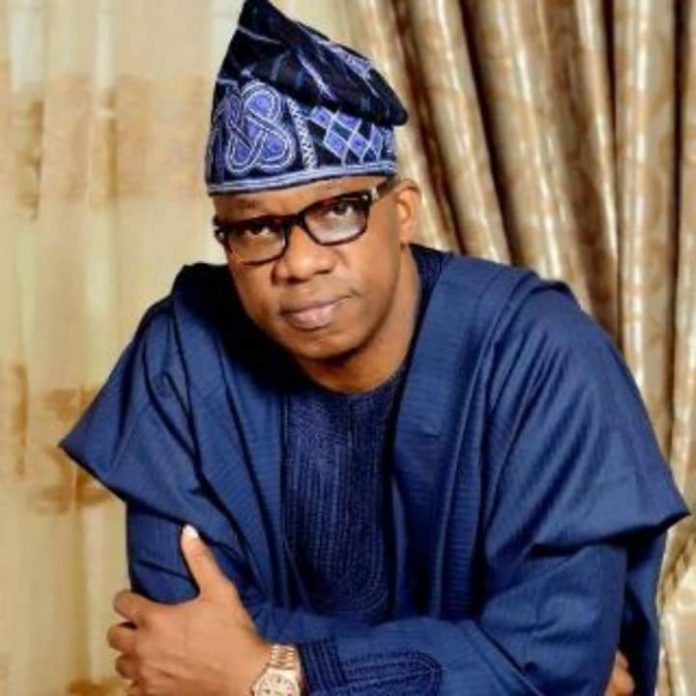 Oil Mongul, Prince Dapo Abiodun has reacted to a story about Paternity of his late Son Gbenga Abiodun and his romance with former petroleum minister Diezani Allison Maduekwe
Abiodun a gubernatorial aspirant in Ogun state described the recent attack on him in the media as an antics from political opponents who are jittery of his soaring political carreer.
According to a statement copy of which was made available to our reporter , Dr. Dapo Abiodun does not only share his DNA with his children; he plays the role of a father to them all quintessentially, including his late son Olugbemiga whose memories the writers sought to denigrate with their gibberish.
Abiodun's robust connection to his first son was very deep and it always elicited a debate among his siblings who felt Olugbemiga was always accorded a prime place in the heart of his father.
"This belies the notion of an absent father peddled in the article.
Olugbemiga was raised with very high standards and ethos, and the bubbly boy lived up to those standards till he breathed his last."
"At no point was there any detachment between father and child, as they both always kept each other updates about developments around each other. Oluwagbemiga worked with his Dad and was a serial entrepreneur following his fathers footsteps."
"Olugbemiga touched so many people on so many different levels during his short life but few had the pleasure of truly knowing him. He was a down to earth, generous, kind-hearted, idealist and selfless individual who was extremely inspirational to many."
"It is never easy to come to terms with the heart-wrenching and enduring agony that accompanies the death of a loved son which left the Princes heart broken in a million pieces ."
"We knew him as a devoted son, a loyal and very generous brother and friend. But his father draws solace from the fact that he (Olu) was older than the days he lived and the breaths he drew."
"We can tell you categorically that Olugbemiga did not die of hard drugs, but obviously of carbon monoxide poisoning and this was confirmed by all medical reports ."
"As regards his marital life; Dr. Abiodun remains a caring and loving husband from the moment he exchanged marital vows with his wife till he exited this world."
"Linking Abiodun romantically with a former Minister of Petroleum Resources, Mrs. Diezani Alison-Madueke, and possessing an explicit film of the Minister to blackmail her is a fiction meant to satisfy the voyeuristic craving of the writers. A career in Nollywood for the writer(s) may be able to keep them busy if they would dedicate as much energy to their trade as they did to malign him."
"Dr. Dapo Abiodun, MFR, Managing Director of Heyden Petroleum Limited is a thorough businessman with high regards for standard practice. The claim that his business is prone to being taken over by the Asset Management Corporation of Nigeria (AMCON) for likely insolvency is utter falsehood from the pit of hell, and should be treated as such by the discerning public