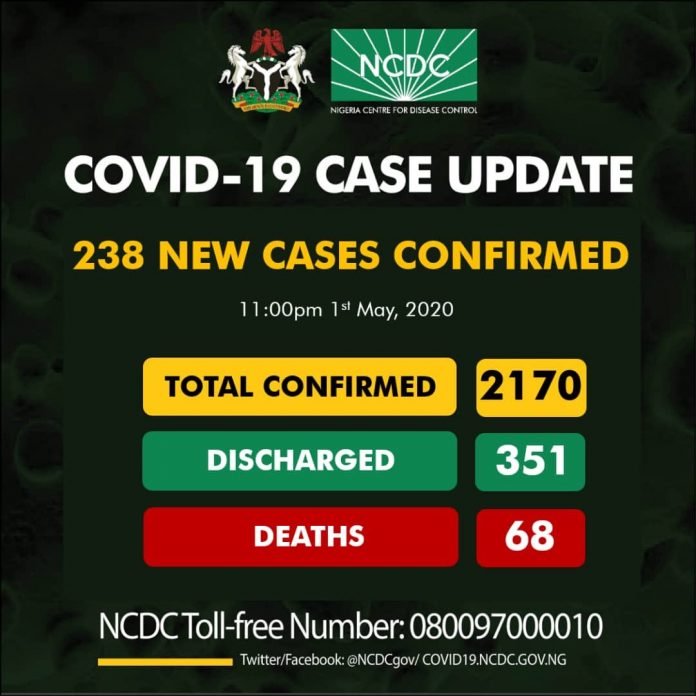 238 New Cases of coronavirus have been confirmed in Nigeria as the pandemic spread to Ogbomoso in oyo state.
This makes the total number of the case to in the country to be 2170, out of which 351 victims have been discharged and 68 death recorded.
Accordng to the data obtained from National Council for Disease Control NCDC ,92-Kano was recorded in Kano
36 in FCT , 30 in Lagos,16 in Gombe and 10 in Bauchi state
Others includes 8 in Delta 6i n Oyo 5 in Zamfara, 5 in Sokoto 4 in Ondo 4 in Nasarawa 3 in Kwara, 3 in Edo 3in Ekiti 3 in Borno, 3 in Yobe 2 in Adamawa, 1in Niger, 1in Imo, 1in Ebonyi, 1in Rivers, and 1in Enugu
Oyo state Governor Engineer Seyi Makinde while giving update on COVID 19 in the state said "We have started receiving results of pending COVID-19 confirmation tests. Two tests came back positive late last night. One from a UCH doctor who returned from Kano and another is a worker with the State Security Service."
"Another eight tests came back positive today. Of the eight newly confirmed cases, six are Togolese nationals and the remaining two are Oyo State residents in Ogbomoso."
He however urged people to please, keep taking advantage of the provision for testing for COVID-19 in Oyo State. Call the Emergency Operations Centre on 08095394000 | 08095863000 | 08078288999 | 08078288800, to book a test.