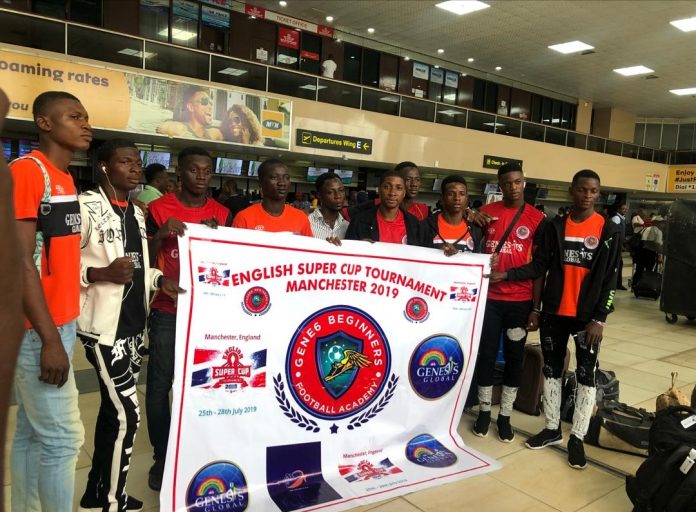 In what could best be described as a major social responsipibilty gesture and commendable contribution to youth development, Rev. Dr. Israel Oladele Ogundipe, the Shepherd-In-Charge of Celestial of Church of Christ, Genesis Global has set up a professional youth football academy, which is already doing so well just under one year.
As you read this, 14 members of the team have landed in Manchester, United Kingdom to take part in the English Super Cup Tournament (Manchester 2019). Yesterday, July 23, 2019, at a special weekly service, Prophet Ogundipe paraded the young talented footballers who are signed to the Gene6 Beginners Football Team and trained under the Gene6 Football Academy in Lagos.
Though the church had nurtured the intention to have its own football club since a long time, the academy finally started off on 3rd of August 2018 with different age grades; the under 10, under 16 and under 18 respectively.
The congregation was full of shock Rev. Dr. Ogundipe announced to the congregation that the Gene6 FC under 18 team, which 14 of its members had been issued UK visa would be going for an international tournament in Manchester. It was a moment of joy and celebration as parents of the boys couldn't hide their moods. They were all full of gratitude to the Genesis Global parish founder and showered prayers on him.
This gesture, no doubt has confirmed the man of God as a true advocate and supporter of youth empowerment.
Before now, he has always organized several trainings for many young members of his church and supported their education. We also learnt that before the end of year, the church will be sponsoring 10 youths for a special training in Inventer and Solar Power Technology in Korea.
Meanwhile, one very interesting thing about the Gene6 Football Academy is that, it does not admit just Christians only despite being owned by a church.
The academy admits talented budding footballers of other faiths too. 4 out of the 14 members of the Under-18 team currently in Manchester are Muslims.
Also going on the trip with them are Mr Adeyemi Ajuwon, the team coach and the Director of the team Mr Popoola Oluranti.