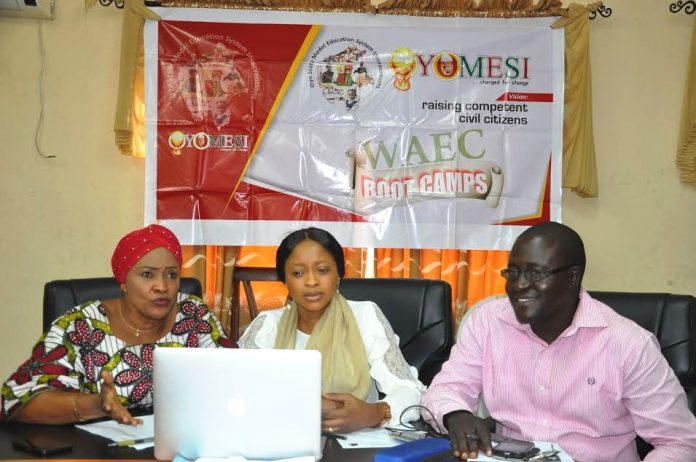 "Why we are bringing OYOMESI into education", Ajimobi's aide explains
Hope is rising everyday for the improvement of the education sector in Oyo State, as aides to the state governor on education, led by Dr. (Mrs.) Bisi Akin-Alabi, Special Adviser together with her team, Alhaja Bolatito Adebisi, Senior Special Assistant and Mr. Yemi Adekola, Special Assistant have perfected plans to launch "OYOMESI Initiative", an education model to consolidate on the efforts of the state government to reposition the state to its pace setter status.
Kunle Gazali, in this Interview with the Special Adviser to Governor Abiola Ajimobi on Education, Dr. Akin-Alabi explained what brought about the OYOMESI initiative. She also spoke on why it is necessary for the state to get prepared to be a hub for workforce that will be in charge of the country's nascent industrial sector.
What brought about OYOMESI initiative and what is it all about?
OYOMESI is an acronym for an education model to be launched in Oyo State, it means Oyo State Model Education System Intervention; it is a group of intervention strategies to give the state quick fix in the sector to close the gap in improving attainment of our students, to close the gap in infrastructure and also to close the gap in the opportunity to ensure that our students have access to qualitative education which is a stand for Sustainable Development Goals' agenda. That is where every state in Nigeria should focus in terms of education and even around the world because that is UNESCO declaration.
The OYOMESI is about the repositioning agenda embarked upon by the state government in order to place the state into her rightful position as the pace setter in the educational development. It is all about three strands. The first strand is character education, where we will be using informal strategy to block holes in the character of our students, because we recently found out that some of our students are displaying anti-social behavior. We need to need to prepare them to become civil, decent and responsible so that they can be able to participate in economic activities. The second strand is localizing education content. We are going to come up with our own brand of model of education content in Oyo State, where we will set standard quality assurance framework across board, from infrastructure to supplies in schools, services as well as teaching and learning.
We are going to standardize and ensure that students in Oyo State are learning the same things across board. And the third strand is improving teachers' motivation and competency. We will have induction training programmes; continuing professional development for our teachers that are linked to performance. They are going to be given a performance link incentive. We are going to look for so many solutions to intensify our teachers; we will also involve organizations to partner with us to deliver on our objectives. Primary, secondary institutions are parts of the initiative; we also have different intervention for the tertiary as well under the second strand which is localized education content. We have what we call Higher Education Intervention whereby we are going to ensure that our students in higher institutions have access to digital academic content as well as easy access for registration and payment. We are also going to make sure that we put in a number of strategies to ensure that our graduates are employable, that is, job ready.
We will involve them in a lot of global challenges and competitions where they will be exposed to job opportunities from multinationals all over the world.
Why are we having this kind of initiative when there are numerous educational policies already in the state?
Education is always evolving. Education is not stagnant, the world is not stagnant. We need to join where the league of countries are in the education sector. Right now, some countries don't have any export, they only export human capacity and we beacon on that in Oyo State. Our education is a low hanging fruit for us, because we have the knowhow, our students are brilliant, what they just need is the enabling environment. We need to improve the education landscape to ensure that they are able to perform at their peak potential. That is what the government is trying to do; all we are trying to do is to make Oyo State the hub for producing capable workforce for the teeming and nascent industrial sector. Nigeria wants to become industrialized, they need workforce, they need knowledgeable human resources, we can provide that as a state, we want Oyo State to be a knowledge based society. We want it to be a hub for producing feasible, competent and responsible citizens.
A very laudable programme like this is not supposed to be government agenda alone, is there any partnership with other relevant stakeholders in the education sector?
Yes, you see this government is 'Ajumose', it is a participatory government. Everything this government has been doing it is always being participatory sort of. That is the reason why government first launched the SGB that is the School Governing Board, whereby our secondary schools will be running together with members of our communities and we will be jointly making decisions. The same thing goes with this OYOMESI initiative, it is going to have a committee which is based in the Ministry of Education and involves all parastatals and agencies in education sector. Also, we are going to have our partners who are going to be interested in either supporting us in one way or the other.
Some of them will offer us expertise, some will offer us services and some will offer us goods and products. Parents as well, will not be left alone, we are going to involve the parents, and we will take education to them. We are going to use the first strand which is character education as an informal strategy to actually get education closer to the parents and get their backing to support us to raise competent, civil citizens for Oyo State.
What are the lined up programmes as we speak?
Right now, we have started the WAEC boot camp, we started in March, we are going round doing focus teaching and learning with our students to help them with their WAEC examinations. We have also distributed some books and resource things for teachers to use to engage the students in a focus teaching and learning session. Our teachers are doing brilliantly well and we are hopeful to get very good result at the end of this WAEC because our teachers are going to be recognized by the governor, Abiola Ajimobi when the result comes out.
The Governor has put education on the front burner for about two years now; he is always deliberating and putting committees to come up with different aspect of strategy to bring about a reform in the education sector. The education sector in Oyo State is going through a reform and at the end of the day we will applaud this present government for taking the initiative and planning for the future. The children are our future and the present government understands this and that is why she had deployed all the government machineries to ensure OYOMESI initiative becomes success.
What is the main objective you wish to realize at the end of the day?
Our target is to improve attainment on education, WAEC for example, because last year WAEC was very poor and we come together and did something for the NECO, and as you too can see our students came second in the NECO examination, so, we are going to ride on the NECO, we want to repeat that feat in the WAEC and that is the reason why we started the WAEC boot camp. We want to improve the education offering in Oyo State. We want to ensure that the landscape in our schools are changed, we are looking to train our teachers to build their capacity so that they can deliver 21st century education standard.
We will also be ensuring that our students too are exposed to character building through informal education strategy like leadership skills, lifestyle skills, mentoring and positive role modeling. We already have people who are friends of the state and the state indigenes all over the world and within Nigeria that are helping us to roll out these character education programmes. So, we are looking at so many things but the purpose of it, our main target is to raise competent, civil citizens that are not just enlightened people but economically viable to better the lot of our people in Oyo State. We need to ensure that our children are employable, they are job ready, they are civil and decent, that is when they can be responsible to themselves, the society and then we can be proud to be from Oyo State.
By this time, all the issues of rioting and calling the governor names will be put in the past, because our students will now understand what it means to be educated. So, what we want is that we want to roll out wholesome education because education is a totality of moral, competency, knowledge and social leaning. We don't want half baked educated people in Oyo State.
What has been the level of cooperation so far from the stakeholders?
Oh! The level of cooperation has been phenomenal, right now; we are only engaging internal stakeholders who are Teachers, Principals, Directors, the Permanent Secretary and Commissioner. In the Ministry of Education and entire education sector in Oyo State, we have all been working together, that is why everybody calls us one education family. We have a huge parastatal in the state education sector, BOTAFED, TESCOM, Library Board, SUBEB and Ministry of Education, Science and Technology and we have been working together, and again all committee members of OYOMESI initiative are drawn from each area of education MDAs.
From angle of parents, what should be their expectation?
Parents should get ready for engagement in their children's education; they should get ready for enhanced information because we are going to share more information through briefing which we are going to organize very soon. This is where we are going to deliberate and share the vision of the present government to raise competent, civil citizens for the parents and how they can help us to build their wards. So, basically, we are going to hold series of briefings with them across the three senatorial districts in the state.