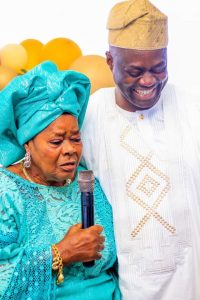 Oyo State Governor, Engr. Seyi Makinde has on Thursday, losed his mum at the age of 80.
The late mother of the Governor, Madam Abigail Makinde died after a brief illness related to old age.
Recall that Makinde celebrated his Mum's 80th birthday in November, 2019.
The Makinde's while announcing the demise said "Though Mama gave no indication of any sickness, she slept peacefully in the Lord at the age of 81, in the early hours of the day at her Ibadan home, 7B, Oyeleke Street, Ikolaba, Ibadan.
While we appreciate the Almighty for sparing her life thus far, we must confess that we will sorely miss her counsel, motherly role and impact on the lives of her children and the grandchildren.
"We will equally miss her impactful role as a stabilizing force in the family, her community and especially Oyo State, which is currently being governed by her son and our brother, Engineer Seyi Makinde."
Meanwhile EngrRaufu Olaniyan  has Condoles With Governor Seyi Makinde over Mother's Demise.
Engr. Rauf Olaniyan deputy governor Oyo state has expressed his condolence to Engr Seyi Mankinde on the passing away of his mother. In a media statement signed by Omolere omeetan Senior Special Assistant Media to the deputy governor, Olaniyan noted that "It was with sadness that I heard of the demise of Mama Abigail Makinde, mother of the Executive Governor of Oyo state, my brother and boss."
The the deputy governor said that "Mama's death is particularly painful to me because ever since I came in contact with her, she always treated me like a son. She was always very warm and pleasant towards me just as she was to all that came into her path while she was with us."
"Even though Mama's departure is sad and painful to all who knew her, we however take solace in the fact that she lived an examplary life worthy of emulation. She will continue to live on in our hearts.
We are thankful to God for Mama's life, for the love and pleasant memories she left us and more importantly, we are deeply grateful to her for allowing God bless Oyo state through her.
We thank her for Engr. Seyi Makinde and other illustrious children who God blessed us with through her.
Olaniyan remarked that "Though we are in grief that Mama Abigail Makinde has left us, we however rejoice over a life well-lived and are thankful for the love and beautiful memories shared. "